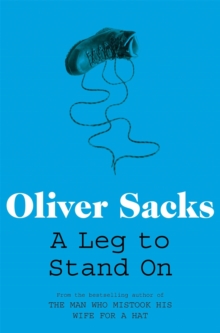 A Leg to Stand on
Paperback
Description
'Oliver Sacks is a perfect antidote to the anaesthetic of familiarity.
His writing turns brains and minds transparent' Observer When Oliver Sacks, a physician by profession, injured his leg while climbing a mountain, he found himself in an unusual position -- that of patient.
The injury itself was severe, but straightforward to fix; the psychological effects, however, were far less easy to predict, explain, or resolve: Sacks experienced paralysis and an inability to perceive his leg as his own, instead seeing it as some kind of alien and inanimate object, over which he had no control.
A Leg to Stand On is both an account of Sacks' ordeal and subsequent recovery, and an exploration of the ways in which mind and body are inextricably linked. 'In every way a marvellously rich and thoughtful tale' Sunday Telegraph 'Oliver Sacks is a neurologist, a man of humane eloquence, and a genuine communicator.
The value of this book lies in its willingness to combine the technical and the demonic, to admit poetry and philosophy and the religious impulse. It is also intensely personal, and affirms the community of human experience' Observer 'A remarkable, generous, vivid and thoroughly intelligent piece of writing' Sunday Times
Information
Format: Paperback
Pages: 224 pages
Publisher: Pan Macmillan
Publication Date: 01/10/2011
Category: Memoirs
ISBN: 9780330507622
Free Home Delivery
on all orders
Pick up orders
from local bookshops
Reviews
Showing 1 - 1 of 1 reviews.
Review by JimmyChanga
16/06/2015
A very engaging book in which Oliver Sacks, through a bizarre accident involving a bull at the top of a mountain, ended up badly breaking his leg, damaging the nerves there, and half dragging himself down the mountain to get help. At this point, the narrative changes. He is hospitalized and becomes a patient for about 6 weeks. At first, the idea of reading about someone's leg slowly healing might sound dull. But this isn't anyone's leg, this is Oliver fucking Sack's leg!Oliver Sacks, if you haven't read him before, is a neurologist who writes very accessible, empathetic books about various disorders of the brain. I've read a few a long time ago, but what sets Dr. Sacks apart is that he writes like a scientist from the good old days, reminding me at times of Darwin, William James, Da Vinci etc. in that he is a broad thinker, bringing in the arts, music, poetry as equals. This doesn't make him any less rigorous, only that he acknowledges the power of these other fields, and that what we are dealing with is ultimately human. As his maiden aunt reminds him in his sick bed: "All the trouble starts when people forget they're human."A few years ago, when my dad had to be hospitalized because of a heart problem, I could see the fear, anguish, and confusion in his eyes whenever I visited him. His stay was thankfully short, but there were many instances in which we felt like we were being shushed, dismissed, not-listened to. The environment is the exact opposite of what an environment of healing and well-being should be--at least emotional well-being, which is half the battle. It seemed like the professionals were only focused on my dad's surgery, and not with the stress of the entire experience (by the way, stress is one of the main causes of heart disease).In this book, Oliver Sacks is the patient, whereas his usual role is doctor, and finds himself in the same predicament as my dad. But this book isn't a bitter diatribe about "the system". It is an attempt to understand both sides of the doctor/patient equation, as well as an attempt to document the EXPERIENCE of being a patient, the alienation, the striving for answers about his own body. At the end of the book, he talks about how little literature there is out there that is from the patient's perspective. How can we begin to heal if we cannot be empathetic towards the patient?Beyond this, I was amazed at Dr. Sacks's ability to draw upon his large reservoir of the arts to comfort him and to help him understand his condition. He quotes Wittgenstein, Eliot, the book of Job and others, and he uses Mendelssohn to help him heal. As much as I read, I don't know if I would be able to use what I've read in such a pragmatic way, to gain insight and comfort into my current condition.Lastly, Dr. Sacks writes vividly, and often his descriptions were truly epiphanic if you imagine yourself in his position. He reasons in and out and around corners about why he is feeling certain sensations, and you really feel like this is a scientist's constant exploratory mind at work. It is a pity that the doctors didn't listen to what he had to say, as they would've learned quite a bit.My only complaint may be that at times he went on too long, repeating himself in much the same words he did several pages back.I think all doctors, nurses, and health care professionals should read this book. Patients should read it too, so that they feel less alone in their experiences.