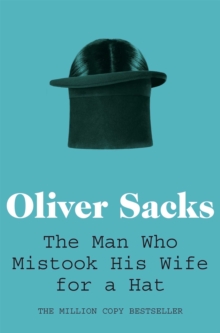 The Man Who Mistook His Wife for a Hat
Paperback
Description
`Oliver Sacks has become the world's best-known neurologist.
His case studies of broken minds offer brilliant insight into the mysteries of consciousness' Guardian In his most extraordinary book, The Man Who Mistook His Wife for a Hat, Oliver Sacks recounts the stories of patients lost in the bizarre, apparently inescapable world of neurological disorders.
These are case studies of people who have lost their memories and with them the greater part of their pasts; who are no longer able to recognize people or common objects; whose limbs have become alien; who are afflicted and yet are gifted with uncanny artistic or mathematical talents.
In Dr Sacks's splendid and sympathetic telling, each tale is a unique and deeply human study of life struggling against incredible adversity.
Information
Format: Paperback
Pages: 272 pages
Publisher: Pan Macmillan
Publication Date: 01/09/2011
ISBN: 9780330523622
Other Formats
Paperback from £7.79
EPUB from £7.98
Free Home Delivery
on all orders
Pick up orders
from local bookshops
Reviews
Showing 1 - 5 of 6 reviews.
Previous | Next
Review by TheAmpersand
16/06/2015
I don't have the sort of job that obliges me to write case studies, but I know someone who does, and she tells me that they're an odd, and sometimes weirdly compelling, literary form. Oliver Sacks's "The Man Who Mistook His Wife for a Hat" is essentially a compilation of extended case studies, and I suppose that the book could be criticized for lacking an overriding theme. At the same time, there's a lot of interesting stuff here, and Sacks seems to have chosen these stories specifically to expand his readers' understandings of the limits and variety of human experience. Most of these conditions that Sacks presents are pretty extreme: we meet a patient who can't remember anything that's happened during the last fifteen years, and another who can't visualize her position in space, people who hear songs playing on radios that are not there, and other patients whose conditions are weirder still. Still, while it's impossible to doubt the author's medical bonafides, his real interest here is the nature of consciousness, and many of these bizarre cases serve to illuminate the intricacies of "normal" mental functioning that most of us take for granted. Sacks seems like precisely the man to do this: he's ridiculously knowledgeable about the history of his field and extremely well-versed in literature and poetry, and he often draws on his knowledge to illustrate the points he makes about the nature of human experience and its relationship with neurology. In a sense, this sets him apart from many of today's "popular" science writers, who often come off, for better or worse, as game amateurs willing to try anything to learn about their chosen subject. Of course, this also means that Sacks's work is a bit denser than these writers' works: "The Man Who Mistook His Wife For a Hat" is consistently interesting, but I wouldn't call it a fun read. I expect that some readers will probably find Sacks a bit stiff and pedantic for their liking. Even so -- and this is important -- Sacks also comes off a a true humanitarian, a compassionate doctor who is willing to empathize with their patients, particularly those who suffer from organic mental disabilities -- in order to understand their problems and worldviews. Indeed, this book might be read as a sort of argument for a less clinical, more holistic approach to neurosurgery that keeps the interplay between the brain and human experience as its central preoccupation. Perhaps for this reason alone, "The Man Who Mistook His Wife for a Hat" might be called a really valuable, important book.
Review by tronella
16/06/2015
A book written in the 1980s by a neurologist, describing various of his patients and their neurological problems and speculating as to what can be generalised about the human brain from these case studies. Interesting but a little rambly in places.
Review by calibrary1
16/06/2015
Book review by Jacob I., posted by CA Library:"The Man Who Mistook His Wife for a Hat and Other Clinical Tales by Oliver Sacks was a great book about Oliver Sacks's patients. It is collection of medical oddities. The narrator is Dr. Sacks and is in first person.Dr. Sacks is a neurologists and has many odd patients. Most of them if not all of them have a problem with their brain. Most of the story is set in Dr. Sacks's Office. In some of the short stories Dr. Sacks does go to the patients house. Dr. Sacks has studied these patients and trys to find out what their problem might be. There are many older patients that have rare cases of autism or Tourette syndrome and lived there whole life with it. The dieseases affected how they lived and how they did simple things. I enjoyed the novel. I gave the book 4 out of 5 stars. My Favorite patient was the lost marine because I thought it was very interesting and odd. This book is well suited for adults interested in medical. Overall this is a very good and inspireing book. If you wanna learn about more of these stories you'll have to read this magnificent book."
Review by Arten60
16/06/2015
I enjoyed the book I am interested in consciousness and I think this book helps us to understand what happens when the brain goes wrong but it tells us nothing about Mind or how Consciousness came about or what it means to be Conscious or even Unconscious.
Review by GeoffSC
16/06/2015
A fascinating account of stories of his patients and their mental problems, good and bad. He treats them all with respect, looking for the real/spiritual/talented person.
Also in the Picador Classic series | View all