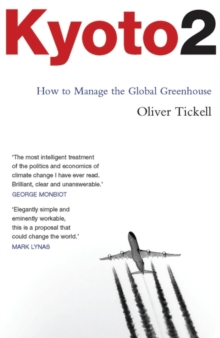 Kyoto2 : How to Manage the Global Greenhouse
Paperback
Description
The Kyoto Protocol, the world's first tentative step towards avoiding the threat of climate change, has failed. We urgently need a new course of action. In Kyoto2 the author presents us with a strikingly original new solution. Using a system of finite production rights for greenhouse gases, which would be traded by organisations on a global auction, Kyoto2 seeks to succeed where the original agreement failed. Regulated by an independent body, the funds could be poured back into healing the wounds inflicted by climate change. In his combination of idealism with realistic proposals, Tickell exposes the flaws in current approaches, and envisions a fairer and more effective system.
Kyoto2 promises to banish the dejection of the post-Kyoto era, reviving hope that the cure for the crisis facing our planet is still achievable.
Information
Format: Paperback
Pages: 304 pages
Publisher: Zed Books Ltd
Publication Date: 25/07/2008
Category: Global warming
ISBN: 9781848130258
Other Formats
Hardback from £61.65
PDF from £15.18
EPUB from £8.79
Free Home Delivery
on all orders
Pick up orders
from local bookshops
Reviews
Showing 1 - 1 of 1 reviews.
Review by ZedBooks
16/06/2015
'The most intelligent treatment of the politics and economics of climate change I have ever read. Brilliant, clear and unanswerable' - George Monbiot 'Elegantly simple and eminently workable, this is a proposal that could change the world. Kyoto2 should be read by anyone with an interest in climate change policy' - Mark Lynas'A fresh, accessible, cogent and bold case for a radical departure from most established thinking. Very seldom is an argument made with such gusto, sharpness and wisdom. Whether you agree with Oliver Tickell or not, your understanding of and thinking about this vital global challenge will be greatly enhanced by reading this book' - Caspar Henderson'Kyoto2 is bang on the nail. Exactly the kind of fresh, radical thinking that is now so urgently required' - Jonathon Porritt'Kyoto2 hits the nail on the head: we need to crank down the global supply of fossil fuels. This is much simpler and more effective than trying to cap emissions, an almost hopeless task. Climate change is a global problem that must be treated globally. Kyoto2 shows how this can be done.' - Peter Barnes, Entrepreneur and writer 'Informative and illuminating, this is a radical assessment of where we're going on climate change (ever-further down the destructive slope) and where we could be headed with prompt and vigorous action (into a far healthier and still sustainable future).' - Norman Myers, Professor and Visiting Fellow at Green College, Oxford University, and at the Said Business School'This is a fantastic book--timely, important, and far-reaching, a key reference for anyone seeking to understand the complexities of dangerous climate change and current efforts to reduce it. Critical in tone and thought, Kyoto2 sharply examines one of the most urgent issues of our time.' - William F. Laurance, Senior Scientist, Smithsonian Tropical Research Institute, Panama; and former president, Association for Tropical Biology and Conservation'Analytical and prophetic, Kyoto2 proposes a green economics of climate change that could just save our planet.' Miriam Kennet, Director, Green Economics Institute.'This is the book we need, and not a moment too soon. It takes seriously the latest science, and sets out to achieve what is necessary, not what's easy.' Bill McKibben, environmentalist, writer and founder of 350.org