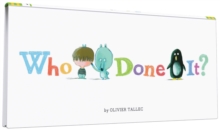 Description
Who ate all the jam? Who didn't get enough sleep? In this charming book, each page asks the reader a question about the lineup of characters featured on the spread.
Sharp eyes and keen observation are necessary. There's only one right answer, and it's not always easy!
Kids will love learning early concepts like expressions and positions as a natural consequence of their hunt for clues in the details of the lineup.
It's a book for all audiences: the seek-and-find call to action on every page makes Who Done It? a wonderful lap or parent read, while the whimsical art, distinctive horizontal format, and hip exposed board ensures this book will be equally appealing as engaging coffee table decor.
Free Home Delivery
on all orders
Pick up orders
from local bookshops