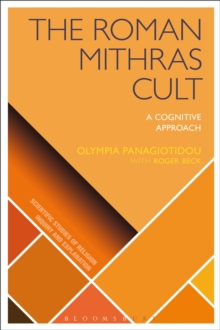 The Roman Mithras Cult : A Cognitive Approach
Paperback / softback
Description
The Roman Mithras Cult: A Cognitive Approach is the first full cognitive history of an ancient religion.
In this groundbreaking book on one of the most intriguing and mysterious ancient religions, Roger Beck and Olympia Panagiotidou show how cognitive historiography can supplement our historical knowledge and deepen our understanding of past cultural phenomenon. The cult of the sun god Mithras, which spread widely across the Greco-Roman world at the same time as other 'mystery cults' and Christianity, offered to its devotees certain images and assumptions about reality.
Initiation into the mysteries of Mithras and participation in the life of the cult significantly affected and transformed the ways in which the initiated perceived themselves, the world, and their position within it.
The cult's major ideas were conveyed mainly through its major symbolic complexes.
The ancient written testimonies and other records are not adequate to establish a definitive reconstruction of Mithraic theologies and the meaning of its complex symbolic structures. Filling this gap, The Roman Mithras Cult: A Cognitive Approach identifies the cognitive and psychological processes which took place in the minds and bodies of the Mithraists during their initiation and participation in the mysteries, enabling the perception, apprehension, and integration of the essential images and assumptions of the cult in its worldview system.
Information
Format: Paperback / softback
Pages: 240 pages, 15 bw illus
Publisher: Bloomsbury Publishing PLC
Publication Date: 22/09/2016
Category: History of religion
ISBN: 9781472567390
Also in the Scientific Studies of Religion: Inquiry and Explanation series | View all