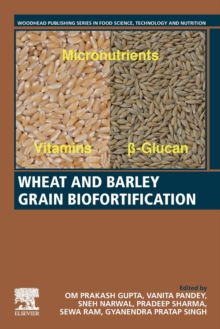 Description
Wheat and Barley Grain Biofortification addresses topics associated with the alleviation of malnutrition in globally diverse populations via wheat and barley biofortification.
The book synthesizes the current trends of malnutrition across the globe, the need for wheat and barley nutritional enhancement and how agronomic, microbial and molecular understanding of biofortification can help in devising significant approaches and strategies.
In addition, it includes discussions on potential genetic variability available and their efficient utilization in wheat and barley for molecular breeding for nutrients, challenges and opportunities for bioavailability, and technical advancement for analysis of bioavailability.
Information
Format: Paperback / softback
Pages: 364 pages
Publisher: Elsevier Science Publishing Co Inc
Publication Date: 20/05/2020
Category: Genetics (non-medical)
ISBN: 9780128184448