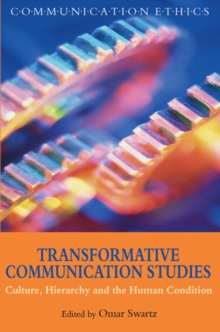 Transformative Communication Studies : Culture, Hierarchy, and the Human Condition
Paperback / softback
Description
This interdisciplinary collection of essays charts intersections between communication/cultural studies and a variety of emergent emancipatory and liberatory discourses.
Every essay attempts, in one way or another, to speak to the following questions: What would a theory of liberation look like that is premised on a communication view of the world?
How would such a view expand and even redefine our understanding of liberation?
Finally, how would such a view enlarge our understanding of what is collectively, communally, and organizationally possible?
In other words, the chapters articulate what can be loosely considered a humanist theory of communication and praxis.
The goal is to move beyond discourses of liberation that are grounded in essentionalist assumptions and to move the conversation toward an engaged criticism on cultural and social levels that facilitates and encourages progressive action.This edited collection, thus, has as its goal a theory of human liberation grounded in communication as a resource for social and spiritual transformation.
The chapters comprise a mix of conceptual and applied studies that interrogate the communicative practices that naturalize our hierarchical world, reifying and stultifying our moral and political imaginations.
As an antidote to this problem, the contributors consider the importance of uncertainly and contingency in the development of human potential.Rather than fearing uncertainty and contingency and allowing that fear to control us, contributors argue that we should find within these conditions the source of our humanity and the strength to question and resist unjust social reifications.
When we do this, we will rediscover the power of communication and regain an agency and control over our lives.
We then can start the difficult but humanizing process of constructing the world anew.
Case study exemplars of this construction, thus, are showcased.
Information
Format: Paperback / softback
Pages: 352 pages
Publisher: Troubador Publishing
Publication Date: 01/03/2008
Category: Communication studies
ISBN: 9781906221904
Free Home Delivery
on all orders
Pick up orders
from local bookshops