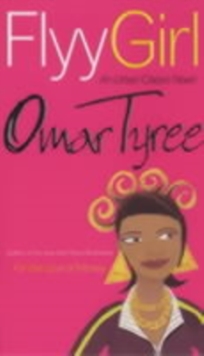 Information
Format: Paperback
Pages: 505 pages
Publisher: Simon & Schuster Ltd
Publication Date: 07/08/2001
ISBN: 9780743218573
Free Home Delivery
on all orders
Pick up orders
from local bookshops
Reviews
Showing 1 - 3 of 3 reviews.
Review by Araya05
16/06/2015
The quintessential coming of age story for young girls.
Review by breezy225
16/06/2015
The title of the book is Flyy Girl, the author of the book is Omar Tyree. The main Characters Are Tracy,Raheema, and Mercedes,Tracys mother,Victor,Carl. Tracy is the one growing up too fast, Raheema is her next door neighboor the one who doesnt do relationships with young boys. and Mercedes [raheemas sister], the one who thinks shes too fly,and ends up falling into drugs.the Setting of the story is in Philadelphia in Germantown, a middle class neighboor hood. The theme of da story is a Girl named Tracy growing up too fast, falling for boys and what they tell them,while she falls for violence,sex,heart breaks. The Conflict is that Tracy is doing what she wants,living her life the way she wants too,but that all comes to a stop, when she realizes who she is, and that she needs to have respect for herself.In a Largely Black neighboorhood in Philadelphia, Lives a Girl named Tracy Ellison [ the main character]. At first Tracy lived with both of her parents, when Tracy turned 13, and her mother became pregnant with her brother Jason, Her mother and father decided to separate for a while. Living in Germantown, Tracy goes to school and does well. Her only problem was ''boys''.from age 6 to 18 Tracy has different relationships wit different men. Tracy is a young girl, growing up during the hip hop era, surrounded by sex,boys that just want to use her, violence. Her long time next door neighboor Raheema and her sister Mercedes ,tries to give her advice,Tracy doesnt consider listening to anybody who tries to help her or give her advice. Mercedes wasnt any better then Tracy,she thought she was too fly,and ends up into drugs. While she has people who want to help her because they think shes growing up too fast, doing stuff she isnt supposed to at a young age, Tracy thinks its best to live life the way she knows how to live it, in the fast lane. Not only is Tracy living the fast life,but so are her friends. I like how Omar Tyree not only explained the teenage years of Tracys life,but he gave every detail, that went on. Tracy goes from man to man until she finds her match,While her and friends are going through sex,love,and heartbreak.My favorite part of the book has to be when Tracy falls for victor,a boy who just doesnt care about life, and he gets caught selling drugs.On her seventeenth birthday Tracy finds a letter from victor in her room. Before meeting her match, Tracy and her friends love and leave the boys they talk to, looking but not finding happiness. The Street boys tell Tracy anything she wants to hear,so she believes shes happy. But shes stuck in a Material Life, she collects money, designer clothes,jewelry from the boys. Eventually her father moves back in, which makes her brother and mother happy, but Tracy wasnt so sure if she wanted her father to come back in her life,and run her,and tell her what to do. She wanted to be her own person. As tracy examines life from a different view, Mercedes was a pefect example of why Tracy decides to turn her life around. Tracy realizs that she needs to change her life up for the better, she had to realize what was more important; attracting boys, sleeping around, violence, Or having respect for herself as she matures from a young girl, into a Woman.i recommend this for any body who likes a little bit of drama, boy problems,sex,violence. Have you ever had a Role Model, and wanted to be somebody who had something you didnt?? and later you realize that wanting to be that person isnt what you want to be,you decide you want to be nothing but your own person, i think thats how Tracy felt,by reading the book you will find out who Tracys Role model was. i really liked this book, at first i didnt even want to open it, but as soon as i started reading it,it got deeper and deeper. I think all girls who are in there teenager years, going through rough times,and problems should read this book. The things and conflicts that happen to Tracy, happen to many young Ladys in our society, and they can all relate to Tracys experiences while growing up. The book teaches alot of morals, and values in young female's lifes. It makes you think about how you have to respect yourself before you respect somebody you want to be with, or somebody you want to give your heart too. I rated this book with 5 stars,and i believe that it meets all expectations,it made me think about my life, after i read it. and it made me think about what my morals in life were.
Review by kjdavis87
16/06/2015
This is one of my first urban lit books and is still one of favorite. This will always be a classic to me.