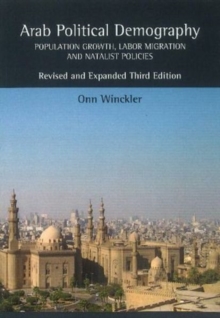 Arab Political Demography : Population Growth, Labor Migration & Natalist Policies
Hardback
Description
The Arab Spring exposed the fundamental weakness of the non-oil Arab economies, namely, the imbalance between population growth and the labour market, resulting in the emergence of structural unemployment among young adults.
By the early 2000s these economies faced impossible circumstances: in order to achieve substantial economic growth they had to reduce subsidies and increase privatisation -- economic policies that led to a deterioration of the living standards of the vast majority of the population. The Arab Spring created a new category in the region, that of "failed Arab state", characterised by a fallen "old regime" without a competent new regime to replace it.
Civil wars resulted, along lines of religious or ethnic division, as in Syria (Alawites against Sunnis), Iraq (Shi'is against Sunnis and Kurds against Arabs) and in Yemen (Shiis against Sunnis).
Regional divisions accounted for the civil war in Libya.
The other side of the "new Arab map" is the Arabian Gulf oil states which continue to function as before, both politically and socioeconomically. Chapter 1 places Arab countries in the global demographic picture.
Chapter 2 examines the quantity of the demographic records of Arab countries.
Chapter 3 deals with patterns of population growth of Arab countries.
Chapter 4 analyses the emergence of employment pressure.
Chapter 5 discusses intra-Arab labour migration. Chapter 6 analyses natalist policies. The Concluding Chapter examines the "demographic fingerprint" of the Arab Spring which not only was the "core" of the revolution, but also its main consequence in the form of drawing the new political map of the Arab region according to an ethno-religious composition.
Information
Format: Hardback
Pages: 352 pages, over 50 tables & figures
Publisher: Sussex Academic Press
Publication Date: 01/05/2017
Category: Middle Eastern history
ISBN: 9781845197599
Other Formats
Paperback / softback from £26.55
Hardback from £26.99
Free Home Delivery
on all orders
Pick up orders
from local bookshops