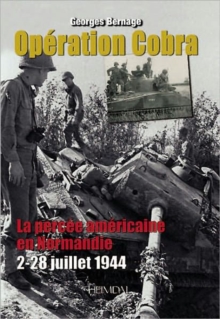 Operation Cobra : La Percee Americaine En Normandie (2-22 Juillet 1944)
Hardback
Description
* A superb colour guide to Operation Cobra, complete with over 800 photographsOperation Cobra was the codename for an offensive launched by the First United States Army eight weeks after the D-Day landings, during the Normandy Campaign of World War II.
American Lieutenant General Omar Bradley's intention was to take advantage of the German preoccupation with British and Canadian activity around the town of Caen, and punch through the German defences penning in his troops while his opponent was distracted and unbalanced. Once a corridor had been created, the First Army would then be able to advance into Brittany, rolling up the German flanks and freeing itself of the constraints imposed by operating in the countryside.
After a slow start the offensive gathered momentum, and German resistance collapsed as scattered remnants of broken units fought to escape to the Seine.
Lacking the resources to cope with the situation, the German response was ineffectual, and the entire Normandy front soon collapsed.
Operation Cobra, together with concurrent offensives by the Second British and First Canadian Armies, was decisive in securing an Allied victory in the Normandy Campaign. This highly illustrated book describes the very hard fighting of the U.S. forces south of the Cotentin peninsula, from July 2 to 15 1944, and the following lead up to Operation Cobra. French Language
Information
Format: Hardback
Pages: 160 pages, Fully illustrated throughout in colour
Publisher: Editions Heimdal
Publication Date: 30/04/2011
Category: Second World War
ISBN: 9782840482864
Free Home Delivery
on all orders
Pick up orders
from local bookshops