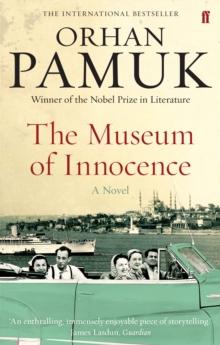 The Museum of Innocence
Paperback
Description
The Museum of Innocence - set in Istanbul between 1975 and today - tells the story of Kemal, the son of one of Istanbul's richest families, and of his obsessive love for a poor and distant relation, the beautiful Fusun, who is a shop-girl in a small boutique.
In his romantic pursuit of Fusun over the next eight years, Kemal compulsively amasses a collection of objects that chronicles his lovelorn progress-a museum that is both a map of a society and of his heart.
The novel depicts a panoramic view of life in Istanbul as it chronicles this long, obsessive love affair; and Pamuk beautifully captures the identity crisis experienced by Istanbul's upper classes that find themselves caught between traditional and westernised ways of being. Orhan Pamuk's first novel since winning the Nobel Prize is a stirring love story and exploration of the nature of romance.
Pamuk built The Museum of Innocence in the house in which his hero's fictional family lived, to display Kemal's strange collection of objects associated with Fusun and their relationship.
The house opened to the public in 2012 in the Beyoglu district of Istanbul. "Pamuk has created a work concerning romantic love worthy to stand in the company of Lolita, Madame Bovary and Anna Karenina." (Financial Times).
Information
Format: Paperback
Pages: 752 pages
Publisher: Faber & Faber
Publication Date: 02/09/2010
Category: Classic fiction (pre c 1945)
ISBN: 9780571237029
Other Formats
Hardback from £14.65
EPUB from £6.39
Free Home Delivery
on all orders
Pick up orders
from local bookshops
Reviews
Showing 1 - 2 of 2 reviews.
Review by Africansky1
16/06/2015
I have been asked to review this novel by the Go Review that Book group for LT. I see there are in fact 32 other reviews of the book on LT so there is a challenge to contribute something new . In reviewing a novel it is essentia not to give away the plot or story's climax . I read this very long novel (over 700 pages) in English translation (the paperback version published in 2010). It was originally published in Turkish in 2008. I wondered how faithfully or successfully the work has been translated but there is fulsome praise for the translator , Maureen Feeely . I found it a long read though the language is very simple . The story is of the illicit love affair of the first person narrator, Kemal and his mistress Fusin. The characters have been compared to the iconic lovers of other classic love novels, Lolita, Anna Karenina , and Madame Bovary . The question common to all is how does the author use is medium, the novel, to throw light on the human condition ? Pamik passes the test as he conveys the emotions, the uncontrolable desire , the madness of passion . The intimate details of stolen love and the cheating on wives and husbands both shock and have a voyeuristic appeal. However, I never warmed to or felt any sympathy for the lead characters . The novel is good in capturing the innocence and omnipotence of youth but did these people learn nothing as their lives progressed? I found it a strange novel as it is an extraordinary 83 chapters but more specifically as it seems to cross that boundary between memoir, reality and fantasy / fiction . I think this is what the author wished to convey. Perhaps this is how we all live our lives with a fantasy dream world happening in one's memories , emotions and reflections . You wonder if a beautiful woman such as Fusin walked the streets of Istanbul. I enjoy reading novels by writers of different nationalities that give you the feel for a society, a time and a place. At that level Pamuk's novel works as it gives an insight into secular but traditional contemporary Turkish society from 1975 to the present , there is a map of Istanbul and the index of characters further add to verisimultude of the novel . I enjoyed Pamuk's book on other book on Istanbul hugely and shall read his other novels when they fall into my lap. Pamuk has become a controversial figure in Turkey because of a couple of seemingly offensive remarks on The history of Armenians and Kurds and was tried for his comments . How ironic that a writer who has become a best seller and has given the world an achingly nostalgic insight into his city and culture should fall foul of the law and be fined . The predicament Pamuk finds himself in raises questions about Turkey as a modern secular economically progressive place , wanting to be a member of the European Union in contrast to Turkey as a middle eastern , conservative predominantly Muslim country with an inability to handle history of national connflict. Pamuk is Turkey's only Nobel prize winner in literature (2005). And this novel was published after that award. It is noteworthy that Pamuk has turned fiction into reality with the investment of his prize money in creating a museum of innocence and from photos on the web it is a strange museum but it can be found in Istam and carrying a copy of the novel will stand as entrance ticket . I reserve my opinion and judgment until I have visited , but I am drawn to Istanbul and to include the museum on our itinerary. Other writers have drawn me to their cities ... Naguib Mafouz's Cairo or Joyce's Dublin or Durrell's Alexandria but one arrives too many decades to late to find the author's grail. Perhaps searching for Pamuk's Istanbul will bring rewards.
Review by mbmackay
27/01/2016
This book starts well - the first 50 pages are wonderful to read. Then not much happens for the next 600 pages, but, surprisingly, it remains a good read. The author writes in clear simple sentences that just flow across the pages, making up for the lack of plot development. I think for a western reader, the picture painted of live in Istanbul provides a background that also helps keep the reader engaged.While this may not be to the top read of the year, I am certainly interested in reading more of this author.Read as ebook Nov 2015.