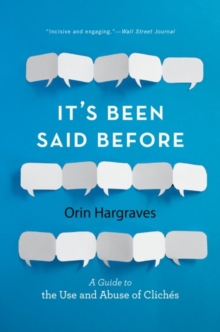 It's Been Said Before : A Guide to the Use and Abuse of Cliches
Paperback
Description
Careful writers and speakers agree that cliches are generally to be avoided.
However, nearly all of us continue to use them. Why do they persist in our language? In It's Been Said Before, lexicographer Orin Hargraves examines the peculiar idea and power of the cliche.
He helps readers understand why certain phrases became cliches and why they should be avoided - or why they still have life left in them.
Indeed, cliches can be useful - even powerful. And few people even agree on which expressions are cliches and which are not.
Many regard any frequent idiom as a cliche, and a phrase regarded as a cliche in one context may be seen simply as an effective expression in another.
Examples drawn from data about actual usage support Hargraves' identification of true cliches.
They also illuminate his commentary on usage problems and helpful suggestions for eliminating cliches where they serve no useful purpose.
Concise and lively, It's Been Said Before serves as a g
Information
Format: Paperback
Pages: 248 pages
Publisher: Oxford University Press
Publication Date: 05/10/2016
Category: Language: reference & general
ISBN: 9780190624156
Free Home Delivery
on all orders
Pick up orders
from local bookshops