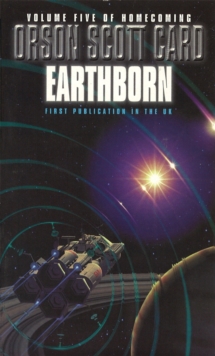 Earthborn : Homecoming Series: Book 5
Paperback / softback
Description
'The fifth and last volume in Card's sprawling Homecoming saga.
More than parable, not quite allegory, Card's far-future religious saga manages, brilliantly, to be at once entertaining, unobjectionable, and edifying.' - Kirkus Reviews'The conclusion of the story, in which the first born son of a former priest and leader sees the evil he has caused and selects his future, is vintage Card and a joy to read.' - Publishers WeeklyHigh above the Earth orbits the starship Basilica.
On board the huge vessel is a sleeping woman. Of those who made the journey, Shedemai alone has survived the hundreds of years since the Children of Wetchik returned to Earth.
She now wears the Cloak of the Starmaster, and the Oversoul wakes her sometimes to watch over her descendants on the planet below.
The population has grown rapidly - there are cities and nations now, whole peoples descended from those who followed Nafai or Elemak.
But in all the long years of searching, the Oversoul has not found the thing it sought.
It has not found the Keeper of Earth, the central intelligence that alone can repair the Oversoul's damaged programming. The fifth and final volume in Card's majestic Homecoming saga. Books by Orson Scott Card:Alvin Maker novelsSeventh SonRed ProphetPrentice AlvinAlvin JourneymanHeartfireThe Crystal CityEnder Wiggin SagaEnder's GameSpeaker for the DeadXenocideChildren of the MindEnder in ExileHomecomingThe Memory of the EarthThe Call of the EarthThe Ships of the EarthEarthfallEarthbornFirst Formic War (with Aaron Johnston)Earth UnawareEarth AfireEarth Awakens
Information
Format:Paperback / softback
Pages:448 pages
Publisher:Little, Brown Book Group
Publication Date:06/07/2000
Category:
ISBN:9781857239829
Also in the Homecoming series | View all