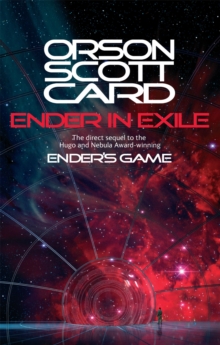 Ender In Exile : Book 5 of the Ender Saga
Paperback / softback
Description
'The novels of Orson Scott Card's Ender series are an intriguing combination of action, military and political strategy, elaborate war games and psychology.' - USA TODAY'Hugo and Nebula-award winner Orson Scott Card demonstrates again that he belongs in the company of such older masters of science fiction as Isaac Asimov, Frank Herbert and Ursula K.
Le Guin.' - Magill Book ReviewsAt first, Ender believed that they would bring him back to Earth as soon as things quieted down.
But things were quiet now, had been quiet for a year, and it was plain to him now that they would not bring him back at all, that he was much more useful as a name and a story than he would ever be as an inconveniently flesh-and-blood person. At the close of ENDER'S GAME, Andrew Wiggin - called Ender by everyone - knows that he cannot live on Earth.
He has become far more than just a boy who won a game: he is the Saviour of Earth, a hero, a military genius whose allegiance is sought by every nation of the newly shattered Earth Hegemony. He is offered the choice of living under the Hegemon's control, a pawn in his brother Peter's political games. Or he can join the colony ships and go out to settle one of the new worlds won in the war.
The story of those years on the colony worlds has never been told . . . until now. The direct sequel to the Hugo and Nebula Award-winning bestseller, ENDER'S GAME. Books by Orson Scott Card:Alvin Maker novelsSeventh SonRed ProphetPrentice AlvinAlvin JourneymanHeartfireThe Crystal CityEnder Wiggin SagaEnder's GameSpeaker for the DeadXenocideChildren of the MindEnder in ExileHomecomingThe Memory of the EarthThe Call of the EarthThe Ships of the EarthEarthfallEarthbornFirst Formic War (with Aaron Johnston)Earth UnawareEarth AfireEarth Awakens
Information
Format:Paperback / softback
Pages:400 pages
Publisher:Little, Brown Book Group
Publication Date:05/11/2009
Category:
ISBN:9781841492278
Also in the Ender Saga series | View all