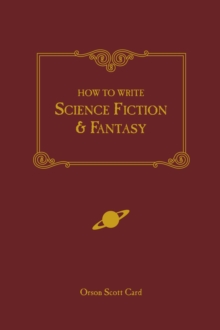 How to Write Science Fiction and Fantasy
Paperback
Description
Learn to write science fiction and fantasy from a master You've always dreamed of writing science fiction and fantasy tales that pull readers into extraordinary new worlds and fantastic conflicts.
Best-selling author Orson Scott Card shows you how it's done, distilling years of writing experience and publishing success into concise, no-nonsense advice.
You'll learn how to:utilize story elements that define the science fiction and fantasy genresbuild, populate, and dramatize a credible, inviting world your readers will want to exploredevelop the "rules" of time, space and magic that affect your world and its inhabitantsconstruct a compelling story by developing ideas, characters, and events that keep readers turning pagesfind the markets for speculative fiction, reach them, and get publishedsubmit queries, write cover letters, find an agent, and live the life of a writer The boundaries of your imagination are infinite.
Explore them with Orson Scott Card and create fiction that casts a spell over agents, publishers, and readers from every world.
Information
Format: Paperback
Pages: 144 pages
Publisher: F&W Publications Inc
Publication Date: 15/09/2001
ISBN: 9781582971032
Free Home Delivery
on all orders
Pick up orders
from local bookshops
Reviews
Showing 1 - 5 of 10 reviews.
Previous | Next
Review by whatever1013
16/06/2015
my suggestion? read it once. read it in *small* doses and let each section get absorbed. i was lucky enough to only get a chapter or two in at a time before my 40+ minute commute to work. i had plenty of time to absorb and think about what he said and why he was saying it. i've seen mixed reviews about this book at amazon, but i think it's because these people either sat down and read it cover-to-cover without thinking about it inbetween chapters or they already know (or think they know)how to do the things he talks about. Orson Scott Card does a good job of taking novice and/or amateur writers (like myself) through the *process* of creating scifi/fantasy worlds. he gives examples of his process and tells you it might not work for you but here are some other ways you *could* do it. my favorite part was the 2. Language section in Chapter 4 Writing Well (pg 100 softcover). he took the same "scene" (female reads letter, faints, etc.) and wrote it 3 different ways to show examples of how the language characters use can change the tone of the story. he uses good, concrete examples from works of other authors and tells you *why* they're good. he tells you what to avoid and how to recognize if you're doing it. i finished the last 2 chapters this morning and i plan on rereading this after a day or two of digestion. only this time i'm going to dogear and highlight to pick out sections i need to remember.
Review by surreality
16/06/2015
The title is slightly misleading - this is more a review of the status of sff at the end of the 1980s than an actual how-to. There are occasional insights into Card's own works, but much time is spent on genre overview and history, rather than actual writing advice.It's not a bad book, but for a how-to, it does not compare favourably to the <i>Elements of Fiction Writing</i> series.
Review by duck2ducks
16/06/2015
This book wasn't very good. Or, to be more accurate, it was almost completely empty of what I was looking for, the themes and matters of relevance of speculative fiction, instead concerning itself almost wholly with the surface elements. Supposedly he has a better and respected book about actual <i>writing</i>, but based on this I'm not running to seek it out.
Review by Neale
16/06/2015
A great author gives some great tips to budding and experienced authors
Review by TPauSilver
16/06/2015
I found this book to be full of good down to earth advice about how to construct a science fiction or fantasy plot. Card doesn't go into writing mechanics but focuses instead of elements unique to sicence fiction and fantasy. He begins with an overview of SciFi and Fantasy which, while out of date, is useful, and the solid advice that to be a writer you must first be a reader. Card then takes us through the process, taking a vague idea or concept and using it be build a world and, from there, a story. He talks about developing your world, learing always to ask why and how, and teaches you how to find the story in your idea as well as covreing some sci-fi and fantasy specific techniques such as exposition. A good, solid and helpful book.