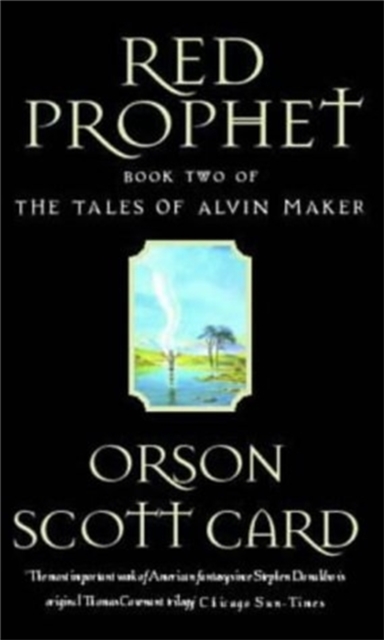 Red Prophet : Tales of Alvin Maker: Book 2
Paperback / softback
Description
'Suddenly the saga of Alvin Maker begins to thrill.' - Washington Post Book World'Red Prophet is but a section of a vast American fantasy epic.
It is vividly written, and the principal actors--Alvin, Ta-Kumsaw, the Prophet, and Alvin's Gandalfesque mentor Taleswapper--are all complete and memorable characters.' - The Philadelphia InquirerSince the age of eleven, when he saw the white men murder his father, the Red Indian Lolla-Wossiky has been a pathetic drunk.
His brother, Ta-Kumsaw, wishes to see whites confined to the eastern lands.
But Governor Bill Harrison of the rough frontier town of Carthage has far more brutal plans for the Indians. When he puts those plans into action, he unwittingly brings young Alvin Miller - a very special white boy with extraordinary magical powers - to Lolla-Wossiky and Ta-Kumsaw. And brings Alvin one more step on his magical odyssey. The second book in the acclaimed Tales of Alvin Maker series, by one of the world's best-loved SF/fantasy authors. Books by Orson Scott Card:Alvin Maker novelsSeventh SonRed ProphetPrentice AlvinAlvin JourneymanHeartfireThe Crystal CityEnder Wiggin SagaEnder's GameSpeaker for the DeadXenocideChildren of the MindEnder in ExileHomecomingThe Memory of the EarthThe Call of the EarthThe Ships of the EarthEarthfallEarthbornFirst Formic War (with Aaron Johnston)Earth UnawareEarth AfireEarth Awakens
Information
Format:Paperback / softback
Pages:320 pages
Publisher:Little, Brown Book Group
Publication Date:03/01/1991
Category:
ISBN:9781841490229
Information
Format:Paperback / softback
Pages:320 pages
Publisher:Little, Brown Book Group
Publication Date:03/01/1991
Category:
ISBN:9781841490229
Also in the Tales of Alvin Maker series | View all