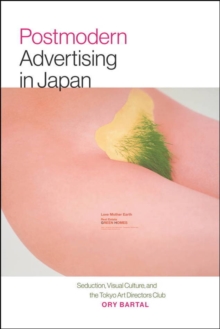 Postmodern Advertising in Japan
Paperback / softback
Description
In a study driven by stunning images of Japanese advertisements and the artworks they quote from, Ory Bartal offers a first-of-its-kind interpretation of the "postmodern" genre of advertising in Japan, which both shaped and reflected the new consumer-driven culture that arose during the bubble era of the 1970s, 1980s, and 1990s.
Through a fascinating tale of art directors and their works and influences, Bartal shows how this postmodern visual language, like postmodernism in other streams, is distinguished by its melange of styles, blurring of boundaries between art and design, and reliance on visual and textual quotations from sources past and present, domestic and foreign.
Although this advertising culture partakes of global trends, Bartal draws attention to the varied local artistic sensibilities, structures of thought, and underlying practices, challenging the often-simplistic characterization of "Japaneseness" as being rooted in a Zen tradition of aesthetic indirectness and ambiguity. Combining multilingual scholarship with a wealth of information gleaned through years of personal interviews with the principals involved, this is a truly original contribution to the discussion of Japanese art and advertising as well as an insightful reading of more general issues in the study of visual culture and media.
Information
Format:Paperback / softback
Pages:288 pages, 77 illus.
Publisher:University Press of New England
Publication Date:05/02/2015
Category:
ISBN:9781611686548