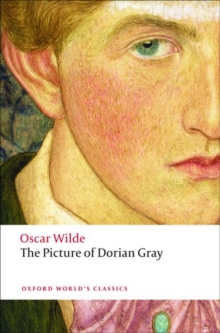 The Picture of Dorian Gray
Paperback
Description
'The only way to get rid of a temptation is to yield to it.' When Dorian Gray has his portrait painted, he is captivated by his own beauty.
Tempted by his world-weary, decadent friend Lord Henry Wotton, he wishes to stay forever young, and pledges his very soul to keep his good looks.
Set in fin-de-siecle London, the novel traces a path from the studio of painter Basil Hallward to the opium dens of the East End.
As Dorian's slide into crime and cruelty progresses he stays magically youthful, while his beautiful portrait changes, revealing the hideous corruption of moral decay.
Ever since its first publication in 1890 Wilde's only novel has remained the subject of critical controversy. Acclaimed by some as an instructive moral tale, it has been denounced by others for its implicit immorality.
Combining elements of the supernatural, aestheticism, and the Gothic, The Picture of Dorian Gray is an unclassifiable and uniquely unsettling work of fiction.
ABOUT THE SERIES: For over 100 years Oxford World's Classics has made available the widest range of literature from around the globe. Each affordable volume reflects Oxford's commitment to scholarship, providing the most accurate text plus a wealth of other valuable features, including expert introductions by leading authorities, helpful notes to clarify the text, up-to-date bibliographies for further study, and much more.
Other Formats
Paperback from £2.50
Hardback from £7.39
CD-Audio from £11.39
EPUB from £0.99
Mixed media product from £10.22
Free Home Delivery
on all orders
Pick up orders
from local bookshops
Reviews
Showing 1 - 5 of 5 reviews.
Review by loriephillips
16/06/2015
Young, handsome and innocent Dorian Gray has his portrait painted, and as he becomes more and more corrupted, in part because of the bad influence of his friend Lord Harry, the portrait takes on the aspect of his corruption while Dorian himself retains his youth and beauty. This is a classic Victorian horror tale that I mostly enjoyed even though I felt at times that the moral lesson it contains was a bit obvious. It also left me wondering what was in Dorian's back ground that made him so easily corruptible, and what made Lord Harry so cynical and jaded. With more character development I think this could have been a great book, instead of being merely good.
Review by TakeItOrLeaveIt
16/06/2015
Reading A Picture of Dorian Gray was a transformative experience. Often times, too often, I felt like Dorian himself reading about his own life from the view of one past. The idea of living a life for the senses, one of nothing but desire and pleasure, is too close to home. Oscar Wilde's wit manifested through Lord Henry was the OG caustic, cynic intellects for which many I know strive to be. I am somewhere in the middle of Dorian and the Lord. I am nowhere at the same time, since I am just a modern man using technology. Still, I can dream that I am not a loser and don't spend all my time writing reviews because I have nothing else going for me. I want to be loved and hated, I want to smoke in an opium den, I want to commit suicide by destroying the painting of myself that's kept my youth in tact. No, I want none of it. Now that I've finished Dorian Gray, there's nowhere left for me to go, nothing left for me to do. I have no outlet. Just as Oscar Wilde finishes his masterpiece wit the unaware suicide of his handsome devil, a knife through his heart, lying decrepit on the floor, I have no where else to venture. I have exhausted life, or has life exhausted me?
Review by xuesheng
16/06/2015
I'm glad that I read this book. I know the basic story of "The Picture of Dorian Gray" because it has become part of culture by being copied, referenced and parodied in TV, movies and other books. As a result of giving his soul to remain youthful, Dorian's picture ages and shows the results of his hedonistic lifestyle while Dorian does not. However, I didn't know the details of Dorian's life--what led him to his lifestyle and the nature of it.In regard to the book, I did have some problems with it. Until Chapter 12 and excepting Dorian's original act that started his life of corruption, I was never sure if I understood the lifestyle that Dorian lived. Wilde strongly hinted at it, but I was constantly wondering if I missed something in what I read or if Wilde had intentionally left Dorian's acts vague so that the readers could fill in the blanks. However, beginning with the 12th chapter and continuing after, Wilde becomes more explicit and provides more detail of Dorian's actions.Also, I could have done without most of Chapter 11. In this chapter, Wilde goes into great detail about his character's obsession with unique musical instruments, jewels, tapestries and Roman Catholic vestments. I really didn't get the point of the chapter.Except for these issues, I enjoyed the book and am very glad I read it. I can now say I know the full story of "The Picture of Dorian Gray."
Review by Miguelnunonave
16/06/2015
I love books where the characters go through wide personality evolutions and where much is left to the reader's imagination. A classic tale of beauty and evil. A haunting book, one that leaves an enduring impression.
Review by Katya0133
16/06/2015
I approached this book more as a classic I felt I "ought" to have read than as a book I was genuinely excited to read, but I found the story compelling, on the whole, and while I probably won't read it again, I'm happy to have read it once.
Also in the Oxford World's Classics series | View all