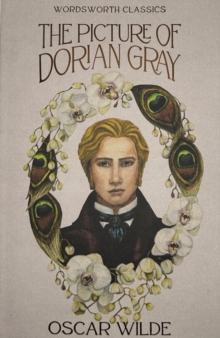 The Picture of Dorian Gray
Paperback
Description
With an Introduction and Notes by John M.L. Drew, University of Buckingham. Wilde's only novel, first published in 1890, is a brilliantly designed puzzle, intended to tease conventional minds with its exploration of the myriad interrelationships between art, life, and consequence.
From its provocative Preface, challenging the reader to believe in 'art for art's sake', to its sensational conclusion, the story self-consciously experiments with the notion of sin as an element of design. Yet Wilde himself underestimated the consequences of his experiment, and its capacity to outrage the Victorian establishment.
Its words returned to haunt him in his court appearances in 1895, and he later recalled the 'note of doom' which runs like 'a purple thread' through its carefully crafted prose.
Information
Format: Paperback
Pages: 224 pages
Publisher: Wordsworth Editions Ltd
Publication Date: 05/05/1992
ISBN: 9781853260155
Other Formats
EPUB from £0.99
Paperback from £2.50
Hardback from £7.39
CD-Audio from £11.39
Mixed media product from £10.22
Free Home Delivery
on all orders
Pick up orders
from local bookshops
Reviews
Showing 1 - 5 of 6 reviews.
Previous | Next
Review by dreamingtereza
16/06/2015
This novel had a magical effect on me at age 15, though at the time I found Lord Henry Wotton's incessant rambling on aesthetics difficult to follow. Even now Mr. Gray beguiles me thoroughly.
Review by john257hopper
16/06/2015
This is a true classic, a chilling story of moral degradation, though the specifics of quite what he gets up to are mostly vague, reflecting the attitudes of the times towards describing dark aspects of human existence. The language is wonderful and even when you don't understand exactly what Lord Henry's incessant epigrams actually mean, you can appreciate the cleverness. A haunting and in places quite funny tale.
Review by TPauSilver
16/06/2015
Not as good as I expected. Some of the dialogue is stilted, with characters giving long, impassioned speaches to each other in order for us to understand their thoughts and opinions. When the dialogue is short and snappy it's wonderful to read, but when it consists of one of the characters throwing their world view at us, it becomes a little depressing. The chapter supposalby detaining Dorian growing old but which actually deals with anything but that is also depressing. Though when the book is good, it is very good. Dorian's reaction to the death of a woman he rejected early in the book, his slow descent and it's inevitable conclusion were lovely. Seeing him sin and watching as he dealt with his sin, corrupting others and throwing of the blame, was very nice. Still, could have done with fewer speches and more action.
Well, what is there to say? A classic, and the first Wilde-book I have read. Not only is it a classic, but I had been told it was one of the classics that stands the test of time very well. I found this to be partially true. A lot of the time, especially during the first half of the book, I found myself getting a bit bored. Sure, there were a lot of thoughtful quotes, and a lot of "deep" things are said. Keeping in mind that this was written and published in the eighteen hundreds, the book must have been extremely progressive at the time, and a lot of things are said which one can only imagine would have been very controversial. However, I'm reading this book in 2012, and that is how I am judging it. Fortunately, as the story progresses, the story itself takes more of the focus, and I found myself going back to taking an interest in it. Overall the book pretty much matched my expectations, and I'd say it is well worth a read. It's entertaining enough to be worth it, and of course, when one finds onself in sophisticated, educated company one can be one of those people who say "Why, yes. Of course I've read The Picture of Dorian Gray. Who hasn't?"
Review by Shirezu
16/06/2015
I've heard about this book for a long time. Everyone knows the basic plot. It's highly rated and one of those books that always comes up on lists of highly recommended. What I hadn't heard before was how boring it is. For such a small book it took me far longer than it should have to get through it. I should have been finished in a day but I'd read two pages and fall asleep.<br/><br/>Now I can appreciate a good vocabulary, a well constructed sentence, a beautiful turn of phrase, even if I can't write like that myself. But there needs to be substance beneath the paint. This book is all style and the meaning of the plot gets lost under it. Dorian Gray is a rich, good-looking socialite who is vain, greedy, uncaring and cruel. He starts that way and he ends that way. There is no growth, no learning. The moral of the book seems to be if you are rich and good-looking you can do anything and get away with it and who cares what anyone else thinks, they're just jealous. There were no characters I could respond to. Any nice character only played a bit part and tended to die and be pushed aside.<br/><br/>And boy could Wilde write some filler, useless crap. Pretty much a whole chapter devoted to the various fads Gray went through and all the stuff he wanted. Jewels and music and tapestries. Pages of it that added not a single thing. The ending was poor. So Gray destroyed the painting and therefore himself. He only did it because it was ugly. He didn't want to change who he had become he just didn't want a visual representation of it. <br/><br/>I had expected much more from this. I cannot see why so many people love it. I won't ever pick it up again. It was a chore from start to finish and I'm glad it's done so I can get back to books I enjoy.
Also in the Wordsworth Classics series | View all