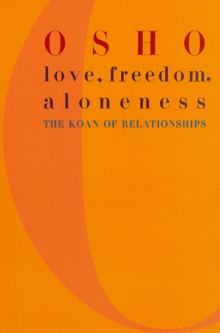 Love, Freedom and Aloneness
Paperback
Description
The model of the traditional family is breaking down, children barely into their teens are experimenting with sex, and half of all marriages in developed countries end in divorce.
In LOVE, FREEDOM AND ALONENESS, Osho explains why these phenomena are happening and how they can actually be viewed as a cause for celebration rather than worry.
In a post-ideological world, where all the old moralities are clearly out of date, we have a golden opportunity to redefine and revitalize the very foundations of our lives.
Literally starting fresh with ourselves and our relationships to others, and defining fulfillment and success for the individual and for society means understanding the new realities of our basic condition.
Until we learn to live by ourselves and with ourselves, we will deny ourselves the possibility of finding love and happiness with someone else.
This book is a provocation and a guide for that fresh start.
Information
Format: Paperback
Pages: 244 pages
Publisher: Griffin Publishing
Publication Date: 13/12/2002
ISBN: 9780312291624
Free Home Delivery
on all orders
Pick up orders
from local bookshops
Reviews
Showing 1 - 2 of 2 reviews.
Review by nieva21
16/06/2015
I recommend this book to everybody that is stuck! I think that is most people from time to time in life. Even if you feel you are too proud to read this book and don't need help-- don't look at this book as a self-help book, it's so much more than that, it's a transcendental experience. It will force you to look at yourself in a whole new way that you never did before every time you read it. It will force you to consider and construct a new you as you read. It may not feel like it's okay or fair to be alone-- it may feel like it's lonely or makes you sad. You may remember the terrible times, or feel incredibly unstable when you find yourself alone with nothing whatsoever to do to fill in the lapse of time... Ohso, questions your mind-- he asks you what makes your boredom, what fills your heart with joy, what is fleeting happiness, what makes you want to be the best you can be-- even if you aren't there right now, he will connect you to your true inner joy and remove animosity, hatred, sarcasm, materialism, negaitivity and need for wealth. This book is simple, but so many things which are simple when they are phrased in the easiest ways have a hard and a deep intention... that is what 'koan' means.
Review by Coyote111
16/06/2015
This got me through some really rough times!