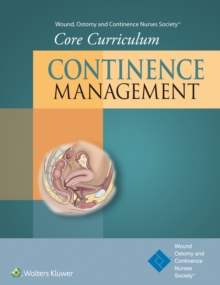 Wound, Ostomy and Continence Nurses Society (R) Core Curriculum: Continence Management
Paperback / softback
Description
This volume in the new Core Curriculum series from WOCN (R) covers Continence Management , and is the crucial text for nurses practicing or studying fecal and urinary continence care.
It offers pathology and physiology basics in easy-to-grasp terms, while providing expert guidance on patient management.
The perfect study guide for the wound, ostomy and continence (WOC) certification exams, it also provides step-by-step direction on essential nursing procedures. The evidence-based, easy-to-follow format of Wound, Ostomy and Continence Nurses Society (TM) Core Curriculum: Continence Management facilitates your comprehension of: o Urinary incontinence and voiding dysfunctiono Physiology of normal defecation and voidingo Motility disorders, fecal incontinence, and bowel dysfunction in pediatric patients. Step-by-step instruction leads you through care planning and delivery, including management of voiding dysfunction and urinary incontinence in both men and women. o End-of-chapter Q&As help you remember all vital pointso Clinical pearls highlight important takeawayso Numerous full-color photos, diagrams, and tables aid understanding of vital topics. Practical directions cover:o Assessment of UI and lower urinary tract symptomso Appropriate use of containment devices, absorbent products, and indwelling catheterso Basic and advanced assessments of patients with urinary incontinence and voiding dysfunctiono Overactive bladder/urgency UI and fecal incontinence - pathology, presentation, diagnosis, and managemento Assessment and management of the neurogenic bladdero Caring for older patients. Wound, Ostomy and Continence Nurses Society (TM) Core Curriculum: Continence Management is essential for nursing students in continence care programs; nurses caring involved in continence care; nurses in gastroenterology, urology, and surgical nursing; graduate nursing students; those seeking WOC certification or recertification; and nursing faculty. Also available as an e-book at other major retailers.
Information
Format: Paperback / softback
Pages: 368 pages, 94
Publisher: Lippincott Williams and Wilkins
Publication Date: 24/08/2015
Category: Nursing
ISBN: 9781451194418