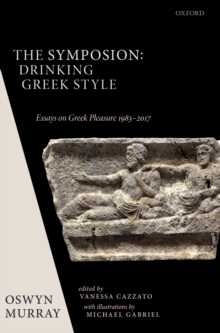 The Symposion: Drinking Greek Style : Essays on Greek Pleasure 1983-2017
Hardback
Description
Symposion is the Greek word for 'drinking together'-the social institution of reclining on couches and enjoying the pleasures of wine, sex, and song.
Although the Greeks learned the rituals of communal drinking from the Near East, they turned them into a way of life entirely their own, such that for the male revellers they were elevated into a conception of euphrosyne (bliss), the highest form of pleasure.
The symposion became a focal point ofGreek aristocratic art and culture in the archaic age, proclaimed in poetry and the visual arts, while its structures affected the Greek attitude to life in all its aspects, from the perception of politics, society, philosophy, and psychology, to attitudes towards sexuality, death, and religion.
Even when the symposionbegan to lose its dominance in the classical democratic city state, it was never abandoned, but continued throughout the Hellenistic age and was transmitted through trade and cultural contact to the Etruscans, the Romans, and throughout the Mediterranean.
One of the longest surviving works from antiquity is an encyclopaedia of Greek drinking customs compiled in the third century AD, and we can still trace the remnants of this sympotic culture today: the story of Greek pleasure thus lies both atthe heart of antiquity and of the western history and conception of pleasure, and even now continues to resonate down the ages.
Oswyn Murray's research on ancient Greek drinking customs, beginning in 1983, ignited a major new field of research in archaeology, art history, Greek literature, and Greek history and established him as an expert in the field.
This volume consolidates his unrivalled contribution by gathering together the numerous essays on sympotic subjects that he has written over a span of thirty years, and charting half a lifetime of thought on a theme on which he has had a shaping influence.
Information
Format: Hardback
Pages: 480 pages, 20 black-and-white illustrations, 11 black-and-white plates, and 12 colour plates
Publisher: Oxford University Press
Publication Date: 26/07/2018
Category: European history
ISBN: 9780198814627