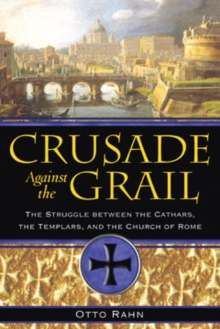 Crusade Against the Grail : The Struggle Between the Cathars the Templars and the Church of Rome
Paperback / softback
Description
CRUSADE AGAINST THE GRAIL is the book that popularised the legend of the Cathars and the Holy Grail.
The first edition appeared in Germany in 1933 and drew upon Rahn's account of his thrilling explorations of the Pyrenean caves where the heretical Cathar sect took refuge during the 13th century.
Over the years the book has been translated into many languages and exerted a large influence on, for example, Trevor Ravenscroft, author of the bestseller 'Spear Of Destiny'.
It also has been cited in the bestseller 'Holy Blood, Holy Grail', but it has never appeared in English until now. Much as German archaeologist Heinrich Schliemann used Homer's Iliad to locate ancient Troy, Rahn believed that Wolfram von Eschenbach's mediaeval epic 'Parzival' held the keys to the mysteries of the Cathars and the secret location of the Holy Grail.
Rahn saw Parzival not as a work of fiction but as an historical account of the Cathars and the Knights Templar and their guardianship of the Grail, a 'stone from the stars'.
The Crusade that the Vatican led against the Cathars became a war pitting Roma (Rome) against Amor (love), in which the Church triumphed with flame and sword over the pure faith of the Cathars. Otto Rahn is seen by many as the model for Indiana Jones.
He was almost certainly murdered by the Nazis in the Tyrolean Mountains in 1939.
This book is an invaluable addition to the English language Grail and Templar literature. * Presents the history of the Papal persecution of the Cathars that lies hidden in the mediaeval epic Parzival and in the poetry of the troubadours * Provides new insights into the life and death of this gifted and controversial author
Information
Format: Paperback / softback
Pages: 224 pages
Publisher: Inner Traditions Bear and Company
Publication Date: 14/09/2006
Category: History of religion
ISBN: 9781594771354
Free Home Delivery
on all orders
Pick up orders
from local bookshops