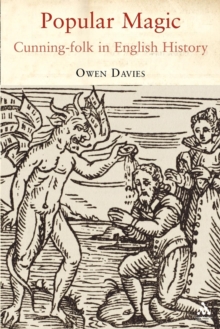 Popular Magic : Cunning-folk in English History
Paperback
Description
Cunning-folk were local practitioners of magic, providing small-scale but valued service to the community.
They were far more representative of magical practice than the arcane delvings of astrologers and necromancers.
Mostly unsensational in their approach, cunning-folk helped people with everyday problems: how to find lost objects; how to escape from bad luck or a suspected spell; and how to attract a lover or keep the love of a husband or wife.
While cunning-folk sometimes fell foul of the authorities, both church and state often turned a blind eye to their existence and practices, distinguishing what they did from the rare and sensational cases of malevolent witchcraft.
In a world of uncertainty, before insurance and modern science, cunning-folk played an important role that has previously been ignored.
Information
Format: Paperback
Pages: 264 pages, 1, black & white illustrations
Publisher: Bloomsbury Publishing PLC
Publication Date: 10/05/2007
Category: British & Irish history
ISBN: 9781847250360
Free Home Delivery
on all orders
Pick up orders
from local bookshops
Reviews
Showing 1 - 1 of 1 reviews.
Review by Dead_Dreamer
16/06/2015
Over all this book was really good, but not at good at his newer book, GRIMOIRES. This one was a bit drier, but still well worth reading. Davies really gets into the legal history of cunning folk. Often times court records are the only source we have to know these people even existed. Unfortunately, the series of court records got a bit tedious. He should have spiced things up with some amusing commentary or analysis (he was quite capable of it in GRIMOIRES), but he chose to go with a "just the facts" approach. Davies also pokes holes in a lot of myths surrounding cunning folk, such as how some believe they were surviving pagans in a predominantly Christian Europe. Not true. Owens give good evidence that most cunning folk were Christian, though perhaps not very church going, or in name only. He says by the 1400s there is no evidence of surviving pagans left in Europe except for a few pockets near the Baltic Sea and the Sami nomads in northern Scandinavia. Of course many practiced a hybridization of Christian/pagan beliefs without even realizing it, such as the Christmas tree and Easter eggs; much like how Voudon disguised African gods as Catholic saints. Davies did a very good job describing the techniques and methods employed by these people. Cunning-folk were basically the antithesis of witches. They took curses off rather than put them on. They also were often skilled herbalists and astrologers, but differed from fortune tellers, and charmers. The general skills of a cunning man/woman were: healing, removing curses, divinations, detecting witches and thieves, locating lost/stolen items. One funny anecdote was that many cunning-folk owned magickal grimoires; however, Davies estimates only about 15-20% could even read them! This means they were used more as "props" to impress clients, or they used the symbols found inside without really knowing what they represented. Because cunning-folk were seen as relatively benevolent, very few were persecuted during the witch burnings. At most they were often tried for vagrancy or charlatanism, as some were most certainly con artists.A VERY informative book. Recommended.