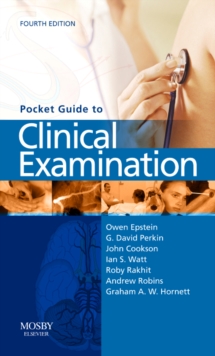 Pocket Guide to Clinical Examination
Paperback / softback
Description
Pocket Guide to Clinical Examination is a handy, well illustrated guide to all aspects of patient examination.
Carry this practical text with you so you can review the questions you should include as part of your history taking, the examination techniques you should use for different body systems and the presenting signs of common disorders. The new fourth edition includes over 130 colour illustrations as well as text boxes to aid revision and help in daily clinical duties. The history-taking and examination coverage will be invaluable to students faced with real-life patients for the first time by highlighting the most things to rememberThe signs & symptoms sections describe the most important diseases associated with each body systemThe various icon boxes highlight and summarise information on a range of issues relevant to history and examination: the elderly, emergency situations, Questions to Ask, etcColour photographs depict the clinical manifestations as they present in real-life and 'real-life' examination techniquesColour diagrams clarify examination technique.
Fully updated in line with the accompanying textbook Clinical Examination.
Increased emphasis on patient communication, especially in the general practice setting.
Two new authors join the team bringing additional expertise to the Pocket GuideFully updated in line with the accompanying textbook Clinical ExaminationIncreased emphasis on patient communication, especially in the general practice settingTwo new authors join the team bringing additional expertise to the Pocket Guide
Information
Format: Paperback / softback
Pages: 320 pages
Publisher: Elsevier Health Sciences
Publication Date: 21/04/2009
Category: Examination of patients
ISBN: 9780723434658
Also by Owen Epstein