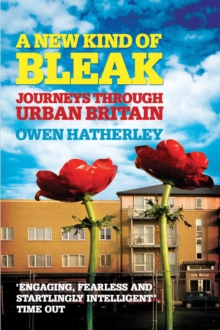 A New Kind of Bleak : Journeys Through Urban Britain
Paperback / softback
Description
This is what austerity looks like: a nation surviving on the results of what conservatives privately call "the progressive nonsense" of the Big Society agenda.
In a journey that begins and ends in the capital, Hatherley takes us from Plymouth and Brighton to Belfast and Aberdeen, by way of the eerie urbanism of the Welsh valleys and the much-mocked splendor of modernist Coventry.
Everywhere outside the unreal Southeast, the building has stopped in towns and cities, which languish as they wait for the next bout of self-defeating austerity.
Hatherley writes with unrivaled aggression about the disarray of modern Britain, and yet this remains a book about possibilities remembered, about unlikely successes in the midst of seemingly inexorable failure.
For as well as trash, ancient and modern, Hatherley finds signs of the hopeful country Britain once was and hints of what it might become.
Information
Format: Paperback / softback
Pages: 400 pages, Illustrated
Publisher: Verso Books
Publication Date: 01/04/2013
ISBN: 9781781680759