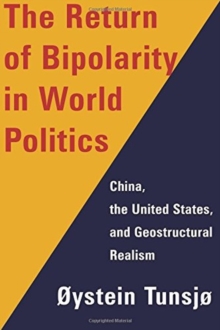 The Return of Bipolarity in World Politics : China, the United States, and Geostructural Realism
Hardback
Description
Since the collapse of the Soviet Union, the international system has been unipolar, centered on the United States.
But the rise of China foreshadows a change in the distribution of power. ystein Tunsj shows that the international system is moving toward a U.S.-China standoff, bringing us back to bipolarity--a system in which no third power can challenge the top two.
The Return of Bipolarity in World Politics surveys the new era of superpowers to argue that the combined effects of the narrowing power gap between China and the United States and the widening power gap between China and any third-ranking power portend a new bipolar system that will differ in crucial ways from that of the last century.
Tunsj expands Kenneth N. Waltz's structural-realist theory to examine the new bipolarity within the context of geopolitics, which he calls "geostructural realism." He considers how a new bipolar system will affect balancing and stability in U.S.-China relations, predicting that the new bipolarity will not be as prone to arms races as the previous era's; that the risk of limited war between the two superpowers is likely to be higher in the coming bipolarity, especially since the two powers are primarily rivals at sea rather than on land; and that the superpowers are likely to be preoccupied with rivalry and conflict in East Asia instead of globally.
Tunsj presents a major challenge to how international relations understands superpowers in the twenty-first century.
Information
Format: Hardback
Pages: 288 pages, 7 b&w illustrations
Publisher: Columbia University Press
Publication Date: 27/02/2018
Category: International relations
ISBN: 9780231176545
Free Home Delivery
on all orders
Pick up orders
from local bookshops