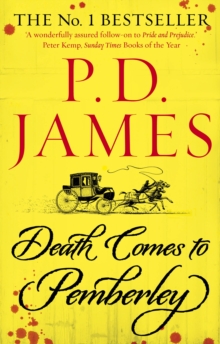 Death Comes to Pemberley
Paperback
Description
The world is classic Jane Austen. The mystery is vintage P.D. James. The year is 1803, and Fitzwilliam Darcy and Elizabeth Bennet have been married for six years.
There are now two handsome and healthy sons in the nursery, Elizabeth's beloved sister Jane and her husband Bingley live nearby and the orderly world of Pemberley seems unassailable.
But all this is threatened when, on the eve of the annual autumn ball, the guests are preparing to retire for the night when a chaise appears, rocking down the path from Pemberley's wild woodland.
As it pulls up, Lydia Wickham - Elizabeth Bennet's younger, unreliable sister - stumbles out screaming that her husband has been murdered.
Two great literary minds - master of suspense P.D. James and literary icon Jane Austen - come together in Death Comes to Pemberley, a bestselling historical crime fiction tribute to Pride and Prejudice.
Conjuring the world of Elizabeth Bennet and Mark Darcy and combining the trappings of Regency British society with a classic murder mystery, James creates a delightful mash-up that will intrigue any Janeite.
From the bestselling author of The Murder Room, Children of Men and A Certain Justice, comes a wonderful mixture of the nation's greatest romance and best-loved crime fiction.
In 2013, this novel was adapted as a miniseries by the BBC, starring Matthew Rhys as Darcy, Anna Maxwell Martin as Elizabeth Bennet and Jenna Coleman as Lydia Wickham.
Information
Format: Paperback
Pages: 352 pages
Publisher: Faber & Faber
Publication Date: 01/07/2012
Category: Crime & mystery
ISBN: 9780571288007
Other Formats
EPUB from £5.60
Paperback from £6.89
Hardback from £14.65
Free Home Delivery
on all orders
Pick up orders
from local bookshops
Reviews
Showing 1 - 4 of 4 reviews.
Review by gbsallery
16/06/2015
An entertaining sequel to Pride and Prejudice, delivered with style and panache by P.D. James. I have not encountered James' writing before, but if this is anything to go by, it's something of a treat. Whilst not clinging too firmly to the modes of speech of the original novel, there is an obvious sympathy and similarity of viewpoints; aside from the slip of genre from romance to whodunnit, there is no painful disjunction between the two books - this is a real achievement. To spin an entertaining novel out of such well-loved foundations without striking an awkward note creates a delightful book. The only slight detraction from the novel relates to the formulas and structure of the detective novel, but these are minor imperfections.
Review by curlycurrie
16/06/2015
P D James has carried on where Jane Austin left off, but with a twist! Her writes blends seamlessly into a P D James mystery. I loved the way that Mr and Mrs Darcy are made for each other. Ms Austin left you wondering whether it would be a match made in heaven, or made elsewhere!
Review by MarthaJeanne
16/06/2015
I thoroughly enjoyed this. I normally don't read mystery novels, but the connections with Austen, and my husband's hesitation ('James is such a good writer, but I'm not sure I want to read a mystery taking place in the early 19th century.') decided me. James takes a light-hearted attitude to it all, the prose is exceptionally good - not trying to be Austen's, but with occasional bits that bring P&P to mind, as well as characters brought in from other Austen novels. It felt like a gift from one Austen lover to another.My husband has read it now, and would warn off James fans who don't also know Austen. He says that this is not a detective novel, and is not easy to read if you don't already know the characters.
Review by Cassandra2020
02/03/2016
Death Comes to Pemberley by PD James - Dull<br/><br/>I remember when Pauline read this, it fell into the category "books I read so you don't have to"! Despite this warning, I signed up for a bookray &amp; lo this dropped onto the doormat a few days ago.<br/><br/>I hang my head in shame at the next admission, I've never read any Jane Austen or seen any adaptation of her books. Despite this, I've read a few Austen inspired books and have been slowly working my round to the realisation that I'm going to have to bite the bullet and read the real thing (especially as I now want to read: Longbourn by Jo Baker). This book is the final straw.<br/><br/>It's not very good. I don't know what got into PD James, but it was stilted and the mystery wasn't particularly well drawn or...er...mysterious. It was pretty obvious what was going to happen.<br/><br/>Elizabeth &amp; Darcy have been married for a few years and have a couple of children. On the eve of their annual Ball, her sister Lydia arrives, distraught: her husband and his friend have disappeared into the woods &amp; shots have been heard. Darcy mounts an expedition and a body is found. <br/><br/>The rest of the book meanders about, not really telling you much until suddenly Darcy is at the Assizes giving evidence. The murderer is unmasked and everyone lives happily ever after.<br/><br/>Thing is, nothing much happens, there is no investigation. Between finding the body, arresting a suspect &amp; the trial etc. NOTHING happens. Is Pride and Prejudice this dull? I wouldn't expect so. I think, maybe, PD James found writing in this style stiffled her.<br/><br/>On the plus side, it took just under 2 days to read and didn't challenge me, just filled in some time.