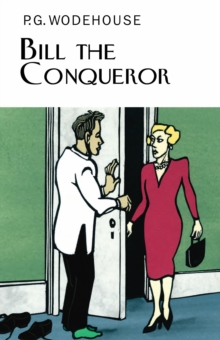 Bill the Conqueror
Hardback
Description
Sir George was disappointed in his son, he was not a chip off the old block and lacked the aggressive drive required of a business tycoon.
So why not marry him off to Felicia she has plenty of spark and could manage any man, all was going well until the arrival from New York of Bill West.
Felicia - a sprightly girl calculated to put the stuffing into any man - is about to be married off to the dreary Roderick Pyke when Bill arrives from New York and she suddenly recognizes in him the man for whom she should forsake all others.
Information
Format: Hardback
Pages: 368 pages
Publisher: Everyman
Publication Date: 01/03/2008
Category: Classic fiction (pre c 1945)
ISBN: 9781841591544
Free Home Delivery
on all orders
Pick up orders
from local bookshops
Reviews
Showing 1 - 1 of 1 reviews.
Review by thorold
16/06/2015
The disintegration of my copy of the old Mayflower paperback was a good excuse to add another Everyman hardback to my PGW collection. As usual, I like everything about the Everyman except the cover art, which for some reason depicts a slightly uglier version of Elizabeth II, ca. 1960, meeting a man in his socks. The paperback is just as bad: it has what appears to be a scene from <i>The Avengers</i> on the front cover...This is a fairly early Wodehouse novel (1924), perhaps not quite as self-assured as what he was writing ten years later, but still well worth the effort. The plotting is a little bit loose, we cross the Atlantic a few more times than are absolutely necessary, and the criminal gang is a bit too clever for its own good, but the central characters (Bill, the kind-hearted but not-very-clever football hero; Flick, the clever, sympathetic and enterprising Wodehouse Girl; Judson Coker the party animal and Prudence Stryker the pugilistic chorus girl) are out of the classic Wodehouse mould. In a later book we would probably have seen more of Prudence (she would have married Judson). A particular delight is that this book marks the first appearances of Percy Pilbeam, the greasy journalist (later to become a pig-detective extraordinaire) and his employer Sir George Pyke (Lord Tilbury). I'm not sure if Flick is the first Wodehouse Girl to jump to the wrong conclusion after seeing her fiancé dining with a chorus girl at Mario's, but she certainly isn't the last! As nickhoonaloon says, there are lots of classic Wodehouse images to enjoy. One thing I noticed: as far as I'm aware, this is the only place where Wodehouse gets the title of Browning's poem right: everywhere else the good news is brought from Aix to Ghent, but here some publisher's editor seems to have stepped in and got the messenger to go from Ghent to Aix as Browning intended. Maybe it's because Wodehouse played a bigger part in my early education than Browning, but I've always thought "Aix to Ghent" sounds better...