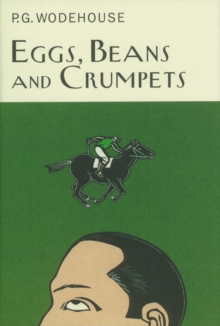 Eggs, Beans and Crumpets
Hardback
Description
Newly married to novelist Rosie M. Banks, Bingo bucks the current trend by being extremely happy, although he does tend to lose his shirt on various horses.
This collection of wonderfully funny stories features a cast of outrageous characters.
Information
Format: Hardback
Pages: 224 pages
Publisher: Everyman
Publication Date: 01/10/2000
ISBN: 9781841591063
Free Home Delivery
on all orders
Pick up orders
from local bookshops
Reviews
Showing 1 - 4 of 4 reviews.
Review by Greatrakes
16/06/2015
The short stories in this collection seem simple and lightweight, until you analyse them. They are wonderfully written, every word is the right word and characters are drawn in a single phrase. Despite this, each story seems to have been written in a single exuberant flow - nice trick if you can pull it off.There are nine stories in my edition including four Bingo Little stories and three Ukridge stories.Bingo LittleThe four stories follow a similar pattern, Bingo Little gets into a scrape, usually trying to raise money for a bet. His plans to hide this from Mrs Bingo Little result in him making the situation worse. And then fortune smiles on him and the day is (improbably) saved. All of the plots are complete tosh, but the stories are full of great lines.From 'All's well with Bingo'Bingo on being told that he won't be getting any cash for his Monte Carlo trip;<b>"Bingo gulped like an ostrich swallowing a brass door knob"</b>Pure Beano/Dandy imagery, for me.From 'Bingo and the Peke Crisis'As a teenager I spent hours trying to get the first paragraphs of stories right - I never thought of starting a story like this:<b>"A Bean was showing his sore leg to some Eggs and Piefaces in the smoking-room of the Drones Club, when a Crumpet came in. Having first paused at the bar to order an Annie's Night Out, he made his way to the group"</b>Brilliant.Anselm gets his ChanceThis has a classic Wodehouse plot. Boy loves girl, girl loves boy, guardian to be approached, but boy has no prospects, stolen valuables, thwarted attempt to raise the cash. Eventually guardian repents, cash arrives too, and all live happily ever after.The story is from the Mr Mulliner series. These are recounted by Mr Mulliner in the bar of the Angler's Rest. His audience consists of Miss Postlethwaite, the barmaid, and the regulars. From time to time they interrupt Mr Mulliner's flow and are referred to only by their tipple, such as a 'Sherry and Angostura' or a 'Small Bass', same device, I suppose, as the Eggs, Beans and Piefaces.I enjoyed it, but not so much as the other stories, it read a little like a template for a Wodehouse short story.Romance at Droitgate SpaHere is a simple synopsis:1. Man wants to marry unsuitable girl but has no control over his fortune2. Man's uncle, a snob, refuses to release said fortune3. Girl masquerades as a nurse from good family and endears herself to Uncle4. Girl's ex lover arrives and exposes girls background5. Girl's uncle is sprung on the group by ex-lover to prove poor background6. Uncle and uncle hit it off, ex-lover thwarted and all live happily ever after.And that's it......except it isn't.When the British talk about comedy they often refer to an author, or a television series, being ground breaking. Every generation considers the ground to have only been broken once, and by the ground-breaker of their generation (Monty Python for me). The more I read and watch the more I am convinced that there is an unbroken tradition of British comedy, a thread running from Lewis Carroll to The Office.The plot of this short story may be simple but Wodehouse places it in a universe set at 90 degrees to reality.The 'hero' is Freddie Fitch-Fitch. His uncle and guardian, a crashing snob, is Major-General Sir Aylmer Bastable. This man is unhappy because, in the world he now inhabits (at Droitgate Spa), status is entirely determined by the seriousness and rarity of your illness; <b>"he found himself cold-shouldered by the men who mattered and thrust back on the society of the asthma patients and the fellows with slight liver trouble"</b> On one occasion the old man complains, after being cut, <b>"Thinks he's everybody just because he's got telangiectasis"</b>The day is saved when the old man discovers that Annabel Purvis's, common, lower class, Uncle Joe is the famously ill Joseph Boffin; 'Started as a child with Congenital Pyloric Hypertrophy of the Stomach and never looked back'. A family connection with Mr Boffin will restore Sir Aylmer's social standing and he happily approves the match.It is odd to have a world where the class system has been replaced by a world where the exact same snobberies apply to illness, but Wodehouse has added a still more surreal touch in Mortimer Rackstraw. He is Annabel's ex-lover and makes his living as conjurer, The Great Boloni. He appears as the standard spurned lover, but always performing his act.In one dramatic scene he pushes Annabel aside to confront the group <b>"His face was cold, hard and remorseless. With one hand he was juggling with two billiard balls and a bouquet of roses" </b>He also has the last scene in the story, having lost the girl<b> "he took flags of all nations from Annabel's back hair and, with a despairing gesture, strode from the room."</b>As I was reading this story, all I could think was that this would be a classic Monty Python sketch, circa the Spanish Inquisition period, except that it was written thirty years earlier - extraordinary.UkridgeThere are three Ukridge stories in this collection, I enjoyed them, which is fortunate, as I also have the book 'Ukridge', with another 10 Ukridge short stories - I've just promoted it five places in my unread pile.Stanley Featherstonehaugh Ukridge is a conman, a chancer and a petty thief in the eyes of everyone but himself. My favourite scene in the book is the one, in 'Ukridge and the Old Stepper', where Ukridge is trying to express his outrage at the conman like behaviour of his Step-step Uncle, to a man whose suit he has just 'stolen'.I've written far too much already, but I have one Ukridge quote from 'Ukridge and the Old Stepper', Ukridge has given Myrtle a present and recounts 'Myrtle was all over the sundial'. This seems to be, in essence, the American "I'm all over it", which has recently replaced, "I'll get right on it". Where has this phrase been hiding for the last 65 years?RatingI enjoyed the book and it has kindled my interest in short stories. I'll give it 4 stars.GI'd just like to take my leave as The Great Boloni (who, in my minds eye, is played by Terry Jones), after swearing revenge on Freddie:<b>'He took up his top hat, which in his emotion he had allowed to fall to the ground, brushed it on his coat-sleeve, extracted from it a cage of love birds and strode out.A moment later, he returned, bowed a few times to right and left and was gone.</b>
Review by generalkala
16/06/2015
I have to admit to not being particularly fond of this book. I adore the Psmith and Jeeves series and so picked up this collection of mostly Bingo Little stories with anticipation.Unfortunately Mr Little does not possess the same depth of character as Jeeves. Although obsessed with gambling and a deep love for his wife, these are really Bingos only idosyncrasies. The stories are repetitive and all revolve around discharging gaming depths before his wife comes home.It did make me giggle a few times, but I think I'll stick to Wodehouse's other series in the future!
Review by isabelx
16/06/2015
I re-read my book of Saki's short stories last month and was struck both by the similarities and the differences between the two books. They are both set in the same upper class milieu, where leisured young men worry about money and girls while they flit from house party to house party, interspersed with visits to their aunts. Saki and PGW both have a thing about aunts, who are a force to be placated and appeased. Although both books are very funny, there is a cruel underbelly to Saki's stories, while Wodehouse always leaves you feeling happy.His language draws you right into the world of the Drones, with their perpetual money-troubles, aversion to doing an honest day's work and placatory relationships with the women in their who keep them short of cash and keep trying to find them jobs. The funniest moment is the last few sentences of "A Bit of Luck for Mabel".
Review by dsc73277
16/06/2015
Typical Wodehouse fayre following the scrapes of wealthy but cash strapped males battling with aunts, uncles, turf accountants and affairs of the heart. Those who find the idle rich distasteful may find that this book induces anger rather than laughter. For my part, I find the misadventures of a group of toffs a wonderful form of escape from our current, somewhat protracted economic woes. The Bingo Little stories in the first half do perhaps get a little repetitive. The chapters involving Ukridge in the second half are a better example of the fun that can be had with the comic short story form.
Also in the Everyman's Library P G Wodehouse series | View all