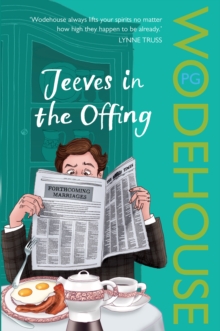 Jeeves in the Offing : (Jeeves & Wooster)
Paperback
Description
A Jeeves and Wooster novelJeeves is on holiday in Herne Bay, and while he's away the world caves in on Bertie Wooster.
For a start, he's astonished to read in The Times of his engagement to the mercurial Bobbie Wickham.
Then at Brinkley Court, his Aunt Dahlia's establishment, he finds his awful former head master in attendance ready to award the prizes at Market Snodsbury Grammar School. And finally the Brinkley butler turns out for reasons of his own to be Bertie's nemesis in disguise, the brain surgeon Sir Roderick Glossop. With all occasions informing against him, Bertie has to hightail it to Herne Bay to liberate Jeeves from his shrimping net. And after that, the fun really starts.
Information
Format: Paperback
Pages: 208 pages
Publisher: Cornerstone
Publication Date: 07/08/2008
Category: Classic fiction (pre c 1945)
ISBN: 9780099513940
Free Home Delivery
on all orders
Pick up orders
from local bookshops
Reviews
Showing 1 - 2 of 2 reviews.
Review by wisewoman
16/06/2015
Whenever I open a Wodehouse book, I wonder why I have stayed away so long. The man is brilliant. It doesn't matter that most of Wodehouse's stories have the same plot, that Bertie becomes unwillingly engaged and unengaged to a most ridiculous number of females in his career, that the country-house setting rarely varies, or that he draws from a predictable stock of characters. None of that matters a smidgen when you open a Wodehouse book and fall into Bertie's hilarious narration. At that point your only goal is to get away somewhere private where you can guffaw heartily without provoking strange looks. In this episode, Bertie is calmly eating his breakfast when his eyes light upon a most astonishing announcement in <I>The Times</I>. Apparently he is now engaged to his old flame Bobbie Wickham — and what a way for a fellow to find out, reading it in the paper! Jeeves is off on a vacation and so Bertie is left to deal with this most unwelcome news himself. He heads off to Brinkley Court to get to the bottom of it, and of course many complications ensue. Brain surgeons masquerading as butlers in order to discreetly spy upon Aunt Dahlia's guests, star-crossed lovers breaking off their engagements every couple of minutes, authors of scathing reviews suddenly meeting in person the writers they publicly derided — oh yes, all this and more. Even the eighteenth-century cow creamer has a cameo!The only problem with Wodehouse is that he wrote so many books, and I read them so quickly that I have trouble remembering which bits belong to which titles. But if that means I must revisit them to get my titles straight, that's fine by me. This one wasn't the funniest of his that I've ever read, but it had me belly-laughing in a couple parts, and few books can do that. Good stuff.
Review by JBD1
16/06/2015
My first foray into the world of Jeeves and Wooster. Terribly enjoyable, as I fully expected it would be (and also quite a lot of fun to read aloud).
Also in the Jeeves & Wooster series | View all