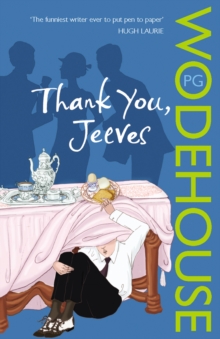 Thank You, Jeeves : (Jeeves & Wooster)
Paperback
Description
A Jeeves and Wooster novel Thank You, Jeeves is the first novel to feature the incomparable valet Jeeves and his hapless charge Bertie Wooster - and you've hardly started to turn the pages when he resigns over Bertie's dedicated but somewhat untuneful playing of the banjo.
In high dudgeon, Bertie disappears to the country as a guest of his chum Chuffy - only to find his peace shattered by the arrival of his ex-fiancee Pauline Stoker, her formidable father and the eminent loony-doctor Sir Roderick Glossop.
When Chuffy falls in love with Pauline and Bertie seems to be caught in flagrante, a situation boils up which only Jeeves (whether employed or not) can simmer down...A display of sustained comic brilliance, this novel shows Wodehouse rising to the top of his game.
Information
Format: Paperback
Pages: 288 pages
Publisher: Cornerstone
Publication Date: 01/05/2008
Category: Classic fiction (pre c 1945)
ISBN: 9780099513735
Free Home Delivery
on all orders
Pick up orders
from local bookshops
Reviews
Showing 1 - 5 of 6 reviews.
Previous | Next
Review by wendyrey
16/06/2015
Very funny and well written. The first of the Jeeves novels. Written in the language of Wodehouse's times and class so don't be put off by the use of words now considered racist - the use was clearly not intended to be derogatory and was a simple description.Brilliant.
Review by Cauterize
16/06/2015
This was my first Jeeves and Wooster story. I enjoyed it, it was very "British" in humour and in tone. Things like words like "Marmaduke" kept popping in and class conflict. Bertie's observations about how his new manservant (the story in this book is that Jeeves quits working for Wooster) and how secretly proletariat he is, had me in stitches. However, I will warn people about this one... a big part of the plot revolves around blackface humour. They're not using it making fun of black people, but as a way for Wooster to escape captivity by walking off a ship with a musical troupe made of black men. It's not very PC today, so I thought I'd mention it. My main gripe is that the book cost me $21.95 CDN, and I didn't think it was worth that much for a trade paperback and a couple hours read. It will be a library borrow from now on. But it was amusing to read the book and fantasizing that Hugh Laurie was reading it to me. However, I do think that people who haven't been exposed to British comedy and humour won't like or enjoy these books very much.
Review by johnthefireman
16/06/2015
Another brilliantly funny offering from P G Wodehouse, this one a full length novel.Jeeves leaves Bertie's service, and the upper-class twit has to make do with his new man, Brinkley. As usual there is romantic interest, numerous misunderstandings, and Jeeves eventually saves the day.
Review by teaswirls
16/06/2015
Wodehouse is a genius. The duo of Jeeves and Wooster is utterly hilarious and wonderful.
Review by shanaqui
16/06/2015
This is my first exposure to Jeeves and Wooster, and I have to say, for one of the novels people keep telling me isn't the best, it's pretty damned good. I'll confess it didn't make me laugh aloud, but I was smiling the entire time I read it. I love Jeeves (who must be a sort of cousin to Lord Peter's Bunter) and the entire silly situation Bertie Wooster manages to get himself into. And it's all so impeccably written, too.Note: It is inevitably of its time, however, and the references to negroes and the issue of various characters going round in, essentially, blackface -- which comprises a fair chunk of the humour -- may irritate.
Also in the Jeeves & Wooster series | View all