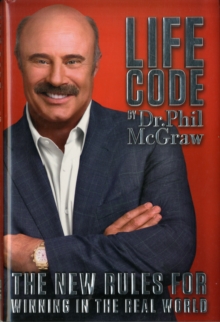 LIFE CODE THE NEW RULES FOR WINNING IN T
Hardback
Information
Format: Hardback
Publisher: OVERSEAS EDITIONS NEW
Publication Date: 12/02/2013
Category: Health & Lifestyle
ISBN: 9780985462734
Free Home Delivery
on all orders
Pick up orders
from local bookshops
Reviews
Showing 1 - 4 of 4 reviews.
Review by slavenrm
16/06/2015
As I've said already several dozen times, I received this book via the courtesy of a GoodReads drawing. Despite that repetitious and kind consideration, I give my unfiltered feedback below.To further the probably unnecessary preamble, I feel it relevant to note that I'm not at all the self-help Dr. Phil type. I don't typically subscribe to the sea of "fix your life" books that are available. This isn't, of course, because my life is perfect but I estimate that the ways in which it is imperfect are not sufficiently of concern to warrant the reading of an entire book. These things take hours to read, after all! But, in the interest of flinging my net of interests to the furthest reaches of the literary genres, I signed up for this book just, as they say when at sea, for the halibut.So to talk about this book properly one must do so in parts. The first section, about 100 pages or so, goes on at length to describe the people in this world who are, to put it as simply as possible, just plain jerkfaces. Dr. Phil calls them 'BAITER's but they can be summed up as those people who abuse the system to get whatever the heck they want. The good doctor provides a list of warning signs for detecting such people and also what to do about them once you've found them. In general I found the whole thing edifying but also not especially practical. I know that such people exist but I was at a loss to name anyone in my immediate acquaintance whom I would term a 'BAITER'. For someone out there, this will serve as a valuable guide.The next functional bit, about 80 pages as I count it, amounts to life coaching. It encourages the reader to be assertive, go after what they want, gives strategies to get it but reminds them that in so doing they shouldn't fall into the category of people described in the first section. In other words, go after what you want but not at any cost whatsoever. It's a delicate balance and the book acknowledges and describes that balance effectively.After global encouragement about life, there's a helpful and specific chunk about negotiation. This is really a subheading of section two but I think it deserves special consideration since it is a process that is so ubiquitous and misunderstood. If you read nothing else in this book, read chapter 6 (this is non-negotiable; well, really it is since everything's negotiable, but I digress). The book closes with a section on passing along all the things you've learned in the previous sections to your children. It describes at a high level some of the modern nuances of parenting and how to best deal with these given that the world has changed considerably since we were young-uns (as Dr. Phil might put it).In summation, this isn't generally the sort of book I'd normally go for but it has something to say to just about everyone. It's not a book in which you hang on every word but somewhere in this thing you'll find something that makes you look up, ponder, and stare briefly into the middle-distance in a thoughtful way. Organizationally the book helps with brief, topical chapters and specific quotes highlighted on each page. You'll want to skim through to the bits that you care about, the book knows this and is organized in such a way to make that easy. One couldn't ask for much more than that.
Review by bookworm_naida
16/06/2015
I purchased my copy of Life Code: The New Rules for Winning in the Real World because after reading the blurb, it seemed like a book I would benefit from reading. I'm also a fan of Dr. Phil's. I read his other self help book, Family First, and I was not only enlightened but impressed. I've put his parenting advice to good use since reading that book. I like the way Dr. Phil not only 'tells it like it is', but I like that he is a spiritual person and it shows in his work, without being overly preachy.In 'Life Code' Dr. Phil's main objective is to make you not only aware of the people who are out to exploit and take advantage of you, but to also make you focus on being more assertive and reaching your own goals in life. In this book Dr. Phil calls the people who use and abuse others 'Baiters' and he says that since society has changed so much, we need to adopt a new Life Code in order to avoid being taken advantage of. Baiters is an acronym for Backstabbers, Abusers, Imposters, Takers, Exploiters, Reckless. Each of these characteristics is broken down and explained in this book. Being that he is a psychiatrist, Dr. Phil goes a bit into personality disorders, which explains some of these behaviors.Dr. Phil says no more giving people the benefit of the doubt and no more being passive in life. One thing he says that resonated with me is that you need to view people neutrally until they prove themselves worthy of your trust. I think that's great advice.Dr. Phil differentiates between motivated, goal oriented individuals and those who are just plain nasty and will do anything in order to get what they want, including lying and cheating. Another thing he does that I really like is he encourages the reader to do exercises while reading, like jotting down a list of personal strengths and weaknesses as well as writing down a set of goals and a time frame in which to achieve them. The purpose of this is to take a good look at oneself and to be honest. The thing I like about the way Dr. Phil writes his books is that I feel as though he is sitting there giving me advice as I read. I find myself nodding my head in agreement or discovering some eye opening revelations.Dr. Phil gives a set of sixteen important strategies and tactics to help you get what you want out of life.I love that Dr. Phil is family oriented and he ends the book with advice on how to share this knowledge and insight with ones own children so that they are not victimized or taken advantage of by Baiters.I don't like to rate self-help books, because I think these types of read either affect the reader in a good way, or not at all. It depends on each individual and their own circumstances. As for myself, I think Life Code: The New Rules for Winning in the Real World is a 5 star read. I was enlightened as I read and my eyes have been opened to certain behaviors and warning signs that I have been blind to in the past. I also discovered some tips and strategies that I will be applying to my everyday life. I found this book to be very inspiring and motivational.Thank you Dr. Phil!I purchased by copy of this book, this review is my honest opinion.
Review by knightlight777
16/06/2015
I got this as an ebook from my sister. It took me quite a while to read it as I did not find it that interesting. Not a big fan of the esteemed Dr. to begin with, I view him as the pop cultural McDonald's of psychology essentially brought to the stage by Oprah. Dr. Phil's central theme in the book is there are a lot of folks out there in the workplace, or elsewhere who are conspiring to bring you down in some way. So he sets up awareness's and strategies to thwart their efforts. The latter part of the book deals with your children and how to deal with them and help them. I skipped that because I don't have kids. He also talks about some other factors that can enhance your life but I could not tell you one I remember other than set yourself apart from others by showing your uniqueness. It is the type of book you need to read repetitively to get much out of it, I will pass.
Review by marysneedle
16/06/2015
This book had some good advice on how to stand your ground and what you should be looking out for and be aware of to protect yourself from what Dr. Phil refers to as BAITERs. (backstabbers, abusers, imposters, takers, exploiters, reckless).
Also by PHILLIP C. MCGRAW