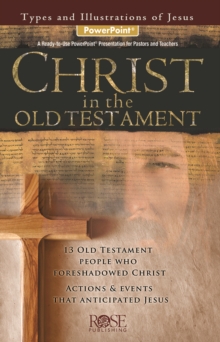 PPT: Christ in the OT
Other digital
Description
Deepen your understanding of the Bible by seeing how ALL of Scripture points to Jesus-even the Old Testament!Find out how the lives of 13 Old Testament people "pre-figured" and pointed to Jesus Christ as our Saviour with this ready-to-use PowerPoint multimedia presentation.
Discover how God provided "saviours" for the people of Israel during the Old Testament, such as David, Joshua, and Joseph, who foreshadowed the eternal Savior yet to come-Jesus.
Understanding stories, such as Abraham's, and how they point to Christ help us to trust in God's timing, his provision, and his love in our own lives!Enjoy having an easy-to-understand overview of the types, parallels, and illustrations of Jesus throughout the Old Testament.
Perfect for individual use or group Bible study. * Covers 13 Old Testament people who foreshadowed Jesus, including Adam, Noah, Abraham, Melchizedek, Joseph, Moses, Joshua, Daniel, King David, Elijah, Zerubbabel, and more. * Provides quick summaries of their lives and significance * Easy-to-follow comparisons, showing how their lives paralleled Christ and his coming. * See fascinating facts at a glance, such as "Joshua's name is actually the same name as Jesus (Yeshua) which means `The Lord Saves'"* Brief overview of what "typology" is and how it helps us to interpret the events of the Bible
Information
Format: Other digital
Publisher: Rose Publishing
Publication Date: 30/04/2018
ISBN: 9781628624694
Free Home Delivery
on all orders
Pick up orders
from local bookshops