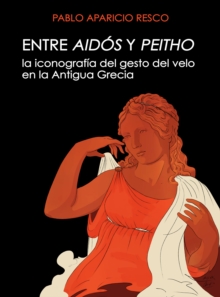 Entre Aidos y Peitho : La iconografia del gesto del velo en la antigua Grecia
Paperback / softback
Description
Is there anything more mysterious than a piece of fabric covering something?
Since the author of this book started noticing classical images with its young figures holding a veil while working in Pompeii, the study of this iconography has become his passion.
This volume will focus only on Ancient Greece, but it explores a fascinating topic with strong connexions in current societies.
The book will delve into the iconography of the veil gesture, but will also explore other topics closely related to it from an anthropological perspective.
SPANISH DESCRIPTION: La Historia del Arte se ha entendido en muchas ocasiones como el estudio de los temas que se representan con cierta pericia en distintos formatos y que, por consenso, consideramos "arte".
Este libro nace, en parte, con la intencion de dar una vuelta de tuerca a esta concepcion de los estudios historico-artisticos y comenzar a plantearlos como un estudio de abajo a arriba, de los motivos, no de los temas.
De este modo, partiremos de un pequeno gesto, aquel que realizan las mujeres griegas para cubrirse o descubrirse con el velo, y lo analizaremos en profundidad como indicador arqueologico de una cultura del pasado.
El gesto del velo lleva implicito un juego de ambivalencias que le hace moverse entre el pudor o "aidos" y el erotismo o "peitho", es este tira y afloja en el que nos moveremos a lo largo de todo el libro el que nos ayudara a entender mejor la historia del arte griego pero tambien la sociedad griega y, en especial, la figura de la mujer en esa sociedad.
Este recorrido de cerca de mil anos entre el siglo XII y el II a.C. nos permitira abordar tambien otros temas como la relacion entre arte y realidad, la importancia del velo en la sociedad contemporanea o la validez de las teorias del analisis iconografico tradicionales.
Espero que este libro, mas alla de ayudar al lector a entender el uso del velo y su representacion en el arte griego, permita tambien clarificar la relacion entre historia del arte, arqueologia e historia, y la necesidad de que estas disciplinas se entiendan para hacernos comprender mejor nuestro pasado.
Free Home Delivery
on all orders
Pick up orders
from local bookshops