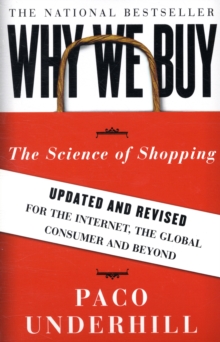 Description
Revolutionary retail guru Paco Underhill is back with a completely revised edition of his classic, witty bestselling book on our ever-evolving consumer culture--full of fresh observations and important lessons from the cutting edge of retail such as Internet behemoths Amazon and iTunes as well as the globalization of retail in the world's emerging markets.
This enlightening edition includes new information on: -The latest trends in online retail--what retailers are doing right and what they're doing wrong--and how nearly every Internet retailer from iTunes to Amazon can drastically improve how it serves its customers. -A guided tour of the most innovative stores, malls and retail environments around the world--almost all of which are springing up in countries where prosperity is new.
An enormous indoor ski slope attracts shoppers to a mall in Dubai; an uber-luxurious Sao Paolo department store provides its customers with personal shoppers; a mall in South Africa has a wave pool for surfing.
The new Why We Buy is an essential guide that offers advice on how to keep your changing customers and entice new and eager ones.
Free Home Delivery
on all orders
Pick up orders
from local bookshops
Reviews
Showing 1 - 2 of 2 reviews.
Review by NewsieQ
16/06/2015
I read the original version in 2001 and recommended it for my non-fiction book group -- so I read this new edition during December 2009 for 01/10 discussion. I'm pretty sure the book will make for an interesting discussion, but I thought this version was less focused (and less fun) than the last one. The added chapters -- on Internet shopping and international retailing -- were OK, but not especially interesting or relevant. The author was constantly me-me-meing and it got a little tedious. He also tried to cover way too much. What I most enjoyed about the book the first-time around was the detail about what his research discovered. That was lacking in the new chapters. Still, it's a fun read I recommend. (The librarian who leads our discussion group was afraid she wouldn't like the book at all. She read it early and LOVED it. She has some interesting stuff in store for us at our meeting.)12/31/2009
Review by livebug
16/06/2015
In Why We Buy (which should more accurately be titled How We Buy, since there is almost nothing on the the yawning abyss of soul-crushing emptiness inside that impels us Beyond Bed and Bath with credit cards aloft) takes us on the journey of Paco the Erstwhile Anthropologist, who spins his ethnographic credentials into a lucrative consulting business telling Target where it should locate its Ladies' Unmentionables. Sample tip from Dr. Paco to retailers: Your shoppers only have two hands! Make sure that shopping baskets are always available to them -- throughout the store -- so that Impulse Shopping can take place once two items are already selected! Also, if your grocery store has a Starbucks, make sure your carts have cupholders!I valued this book because it enabled me to more intelligently thwart the merchandisers' attempt to seduce me with their colorful, touchable, and well-fonted product. Get thee behind me, merchandisers! I also think it sounds like too much fun to be one of the researchers at this firm, spying -- um, gathering data on unsuspecting shoppers as they are jostled from behind in the handbag section and as they squat to retrieve their herbal remedies. Like Papua New Guinea, but air-conditioned!