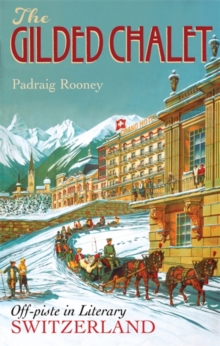 The Gilded Chalet : Off-Piste in Literary Switzerland
Hardback
Description
Rainy summer of 1816. Paparazzi train their telescopes across Lake Geneva on the hanky-panky of Byron, Shelley and their womenfolk.
Mary Shelley is inspired to write Frankenstein. Byron diets and dashes off The Prisoner of Chillon while his doctor, 'Pollydolly', gives birth to The Vampyre.
Percy Shelley almost drowns in the lake. Together they put Switzerland on the literary map. From Caesar, Rousseau and the Romantics, from Conan Doyle to le Carre, Hesse and Highsmith writers have scratched their names on the Swiss chalet.
In the nineteenth century they came for fresh air, fresh milk and the sublime scenery, escaping tuberculosis and smog.
Switzerland became spa central, a place of health fads, luxury hotels and nude sunbathing.
Sherlock Holmes fell to his death only to be resurrected.
H. G. Wells thought he'd died and gone to heaven. Hermann Hesse had himself buried to the neck as a cure for alcoholism.
Thomas Mann wrote The Magic Mountain and lusted after the sailor suits. Neutral Switzerland became a haven in the twentieth century for Borges, Joyce, Remarque, Hemingway, Fitzgerald, Nabokov and Highsmith. They wrote their classic works up some secluded valley, in a coldwater flat in Zurich or in a five-star hotel.
The Gilded Chalet took them in and gave them a suite with a view. Anarchists, spies and detectives came too. Sherlock Holmes, Maugham's Ashenden, Fleming's Bond, le Carre's spooks and double agents.
Glauser and Durrenmatt invented Swiss noir - not a chocolate but a style.
Behind the squeaky-clean facade, Swiss and foreign writers often found something rotten in the state.
Laundered art and money, the world's slush funds, daylight robbery. Switzerland's travel writers Maillart, Eberhardt, Schwarzenbach and Bouvier couldn't wait to make their escape to a bigger air and a warmer climate.
The Gilded Chalet is crammed with old lederhosen and new butterflies, spas and spies, fool's gold and numbered accounts. Part detective work, part treasure chest, full of history and scandal, award-winning writer Padraig Rooney takes you on a grand tour of two centuries of great writing by both Swiss and foreign authors and shows how Switzerland has always been at the centre of literary Europe.
Information
Format: Hardback
Pages: 320 pages
Publisher: Hodder & Stoughton General Division
Publication Date: 03/11/2015
Category: Literary studies: c 1800 to c 1900
ISBN: 9781857886368
Free Home Delivery
on all orders
Pick up orders
from local bookshops