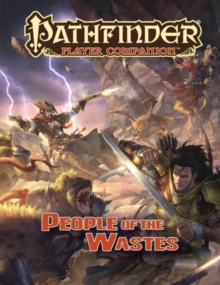 Pathfinder Player Companion: People of the Wastes
Paperback / softback
Description
Life might be scarce in the barren corners of Golarion,but Pathfinder Player Companion: People of the Wastes provides all the tools youneed to become a master of wasteland domains.
Whether your character is roamingthe magic-singed lands of the Mana Wastes, the flooded fields of the SoddenLands, the blighted depths of the Fangwood, or the demonic wilds of theWorldwound, this book offers advice, class options, and gear that allow her tosurvive and thrive where no hero ever should.
Find the perfect trait for yourwasteland-born character, or just the right archetype, feats, or spells toreflect her training in a harsh locale. Insidethis book you'll find: Class features,feats, and items that interact with primal magic, including the primal shaman,who can commune with the unstable spirits that linger where primal magicreigns. A host of new firearms andgun-toting archetypes for characters who hail from the Grand Duchy of Alkenstar,including the gun chemist alchemist and the gun smugglerrogue. New witch hexes and vigilante talentsfor characters living in boggy wastes, plus ranger traps and the blightwardenranger archetype for those who tread blight-filledlands. This Pathfinder Player Companion is intendedfor use with the Pathfinder Roleplaying Game and the Pathfinder campaignsetting, but it can easily be incorporated into any fantasyworld.
Free Home Delivery
on all orders
Pick up orders
from local bookshops