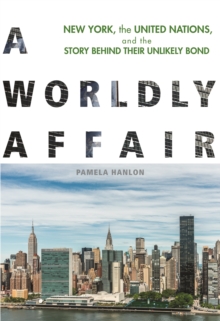 A Worldly Affair : New York, the United Nations, and the Story Behind Their Unlikely Bond
Hardback
Description
For more than seven decades, New York City and the United Nations have shared the island of Manhattan, living and working together in a bond that has been likened to a long marriage-both tempestuous and supportive, quarrelsome and committed.
A Worldly Affair tells the story of this hot and cold romance, from the 1940s when Mayor Fiorello La Guardia was doggedly determined to bring the new world body to New York, to the UN's flat rejection of the city's offer, then its abrupt change of course in the face of a Rockefeller gift, and on to some tense, troubling decades that followed.
Racial prejudice and anti-Communist passions challenged the young international institution.
Spies, scofflaw diplomats, provocative foreign visitors, and controversial UN-member policy positions tested New Yorkers' patience. And all the while, the UN's growth-from its original 51 member states to 193 by 2017-placed demands on the surrounding metropolis for everything from more office space, to more security, to better housing and schools for the international community's children.
As the city worked to accommodate the world body's needs-often in the face of competition from other locales vying to host at least parts of the UN entity-New Yorkers at times grew to resent its encroachment on their neighborhoods, and at times even its very presence.
It was a constituent sentiment that provoked more than one New York mayor to be less than hospitable in dealing with the city's international guests.
Yet, as the UN moves into its eighth decade in New York-with its headquarters complex freshly renovated and the city proudly proclaiming that the organization adds nearly $4 billion to the New York economy each year-it seems clear the decades-old marriage will last.
Whatever the inevitable spats and clashes along the way, the worldly affair is here to stay.
Information
Format: Hardback
Pages: 248 pages, 16-page color insert and 35 black and white illustrations
Publisher: Fordham University Press
Publication Date: 05/09/2017
Category: Regional studies
ISBN: 9780823277957
Free Home Delivery
on all orders
Pick up orders
from local bookshops