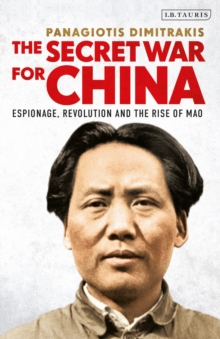 The Secret War for China : Espionage, Revolution and the Rise of Mao
Paperback / softback
Description
The Soviet invasion of Afghanistan, in support of a Marxist-Leninist government, and the subsequent nine-year conflict with the indigenous Afghan Mujahedeen was one of the bloodiest conflicts of the Cold War.
Key details of the circumstances surrounding the invasion and its ultimate conclusion only months before the fall of the Berlin Wall in November 1989 have long remained unclear; it is a confidential narrative of clandestine correspondence, covert operations and failed intelligence.
The Secret War in Afghanistan undertakes a full analysis of recently declassified intelligence archives in order to asses Anglo-American secret intelligence and diplomacy relating to the invasion of Afghanistan and unveil the Cold War realities behind the rhetoric.
Rooted at every turn in close examination of the primary evidence, it outlines the secret operations of the CIA, MI6 and the KGB, and the full extent of the aid and intelligence from the West which armed and trained the Afghan fighters. Drawing from US, UK and Russian archives, Panagiotis Dimitrakis analyses the Chinese arms deals with the CIA, the multiple recorded intelligence failures of KGB intelligence and secret letters from the office of Margaret Thatcher to Jimmy Carter.
In so doing, this study brings a new scholarly perspective to some of the most controversial events of Cold War history.
Dimitrakis also outlines the full extent of China's involvement in arming the Mujahedeen, which led to the PRC effectively fighting the Soviet Union by proxy.
This will be essential reading for scholars and students of the Cold War, American History and the Modern Middle East.
Information
Format: Paperback / softback
Pages: 416 pages, 1 Maps
Publisher: Bloomsbury Publishing PLC
Publication Date: 26/12/2019
Category: Military history
ISBN: 9780755601103