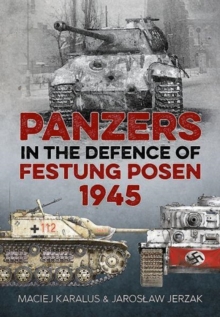 Panzers in the Defence of Festung Posen 1945
Hardback
Description
Panzers in Defence of Poznan 1945 by Maciej Karalus and Jaroslaw Jerzak is the first book published in English to describe the bitter battle for Festung Poznan in 1945.
That Polish city, occupied by the Nazis since almost the very beginning of the Second World War in 1939, was declared a fortress (Festung) on January 20 1945, and for the whole month it saw heavy fighting between Wehrmacht and Waffen SS troops and the Red Army advancing directly towards Berlin.
Among the garrison of the fortress a special part was played by a small heavy Panzer unit which possessed just 1 Tiger tank, 2 Panthers, 1 Panzer IV and a handful of Sturmgeschutze.
Despite the difficulty and sparsity of sources, the authors were able to acquire an impressive wealth of information and memoirs, as well as rich iconography. Before Poland was able to regain her full political autonomy in 1990, the fighting in Poznan was described only by Zbigniew Szumowski and Stanislaw Okecki.
These, however, were poor compilations, only marginally touching upon the participation of German Wehrmacht.
These authors looked upon this subject through the lenses of Soviet documentations and historiographical propaganda of their times.
Sadly, they could not or would not make use of the documents in German archives.
Their cardinal mistake was to overestimate the strength of the forces at play (especially on the German side), and the glorification of the Soviet victory, foregoing an honest analysis of the losses of human life as well as equipment on both sides.
This is the first book in English that allows the reader to follow the street fighting in Poznan through the eyes of the Wehrmacht soldiers, documenting the story of the German armoured forces engaged in the battles for the city.
Information
Format: Hardback
Pages: 160 pages, 63 b/w photos, 4 b/w ills, 3 b/w maps
Publisher: Helion & Company
Publication Date: 15/08/2018
Category: European history
ISBN: 9781912390168
Free Home Delivery
on all orders
Pick up orders
from local bookshops