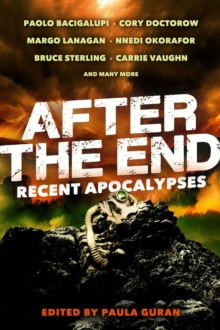 After the End: Recent Apocalypses
Paperback / softback
Description
From the Sumerian epic of Gilgamesh to Norse prophecies of Ragnarok to theRevelations of Saint John to Cormac McCarthy's The Road, and anynumber of fictional zombie Armageddons and the dystopic world of The HungerGames, we have always wondered what will happen after the world as we knowit ends.
No matter what the doomsday scenario - cataclysmic climatechange, political chaos, societal collapse, nuclear war, pestilence, or so manyother dreaded variations - we inevitably believe that even though theworld perishes, some portion of humankind will live on.
Such stories involvedeath and disaster, but they are also tales of rebirth and survival.
Grim ortriumphant, these outstanding, post-apocalyptic stories selected from the bestof those published in the tumultuous last decade allow us to consider what lifewill be like after the end.
Information
Format: Paperback / softback
Pages: 384 pages
Publisher: Prime Books
Publication Date: 28/05/2013
Category: Anthologies (non-poetry)
ISBN: 9781607013907
Free Home Delivery
on all orders
Pick up orders
from local bookshops