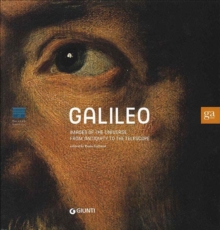 Galileo : Images of the Universe from Antiquity to the Telescope
Paperback / softback
Description
This title offers a magnificently illustrated journey through the history of man's fascination with the stars.
To celebrate the 400th anniversary of Galileo's invention of the telescope, the United Nations has declared 2009 the International Year of the Astronomy.
Since the dawn of time, man has been fascinated by the night sky and the heavenly bodies that inhabit it.
In 1609, Galileo Galilei created an instrument that would change the way the world looked at the heavens forever - the telescope. "Galileo: Images of the Universe" is a magnificently illustrated volume that takes readers on a journey via the works of artists great and small, known and unknown, from the mystical and poetic visions of the heavens held in Egypt and Mesopotamia, through the Greek cosmogonies and the planetary architecture of Ptolemy, to the heliocentric theories of Copernicus that inspired the likes of Galileo, Kepler, and Newton to create the modern concept of the universe. Featuring full-colour images throughout - including works by Botticelli and Rubens, the monumental astrological tapestry of Toledo, and, of course, Galileo's telescope - this is a must-have for anyone interested in the visual journey of how mankind has looked at the stars.
Information
Format: Paperback / softback
Pages: 448 pages, full-colour illustrations throughout
Publisher: Giunti Editore
Publication Date: 05/11/2009
ISBN: 9788809742338
Free Home Delivery
on all orders
Pick up orders
from local bookshops