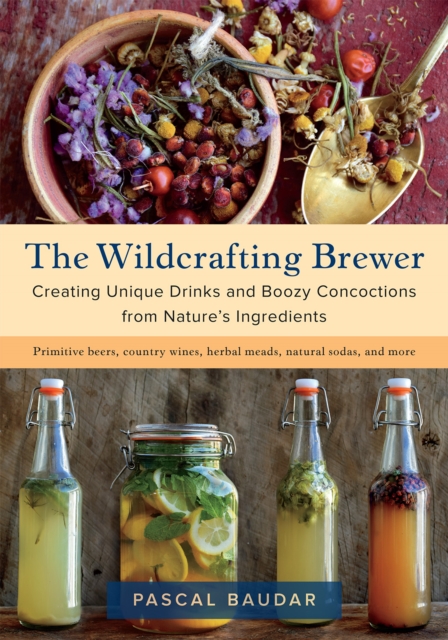 The Wildcrafting Brewer : Creating Unique Drinks and Boozy Concoctions from Nature's Ingredients
Paperback / softback
Description
[Pascal]'s methods are effective, and his creativity is infectious.
With gorgeous photos and clear technical details, this book will be a source of great inspiration.
Sandor Ellix Katz, author of The Art of FermentationThe perfect guide for DIY homebrewers, fermentation fans and foraging enthusiasts!Fermentation fans and homebrewers are invited to discover a galaxy of wild and cultivated plants, fruits, berries and other natural ingredients traditionally used to make a whole spectrum of fizzy fermented drinks!Wild-plant expert and forager Pascal Baudar's first book, The New Wildcrafted Cuisine, opened up a whole new world of possibilities for readers wishing to explore and capture the flavours of their local terroir.
Next in Pascal's Wildcrafted series, The Wildcrafting Brewer does the same for fermented drinks.
Baudar reveals both the underlying philosophy and the practical techniques for making your own delicious concoctions.
Illustrated with full-colour photographs and step-by-step techniques on how to make a variety of drinks, including: Sugar, molasses & syrup-based beers such as ginger beer, mountain beer, nettle beer, wild Belgian beerCountry wines & meads including: elderberry wine, honey wine, herbal meadTraditional drinks & medicinal brews such as tepache, fruit kvass, chaga beerNaturally fermented drinks including: pinecone soda, mountain raspberry soda, elderflower soda, lacto-fermented drinks and much more!Baudar is quick to point out that these recipes serve mainly as a touchstone for readers, who can then use the information and techniques he provides to create their own brews using local ingredients. The Wildcrafting Brewer will attract foodies, herbalists, foragers and chefs alike with the author's playful and relaxed philosophy.
Readers will find themselves surprised by how easy making your own natural drinks can be and will be inspired, again, by the abundance of nature all around them.
Those interested in the wonders of foraging and fermenting can also check out his next book in the wildcrafted series, Wildcrafted Fermentation!
Information
Format:Paperback / softback
Pages:304 pages, Full-color photographs throughout
Publisher:Chelsea Green Publishing Co
Publication Date:08/02/2018
Category:
ISBN:9781603587181
Information
Format:Paperback / softback
Pages:304 pages, Full-color photographs throughout
Publisher:Chelsea Green Publishing Co
Publication Date:08/02/2018
Category:
ISBN:9781603587181