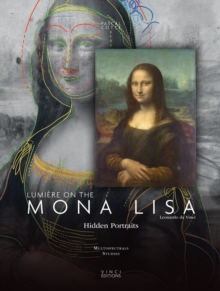 Lumiere on the Mona Lisa
Paperback / softback
Description
The Mona Lisa is one of mankind's great mysteries. With over 9.7 million admirers per year, it is the most legendary painting of all time.
Thanks to an extraordinary scientific imagery technique (L.A.M.), this book takes us on a journey into the heart of the paint-layers of the world's most famous picture and reveals secrets that have remained hidden for 500 years.
Mona Lisa is not actually Lisa Gherardini, wife of Francesco del Giocondo, but a portrait that masks others.
Leonardo da Vinci did not paint one, but four portraits, superimposed on top of one another.
More than 150 discoveries help us rediscover the painting's genesis, with Cotte reconstituting the true portrait of Lisa Gherardini - whose face, hairstyle and costume were radically different from those we now see in the Louvre.
The book shatters the myth and alters our vision of the work.
It is a giant leap forward in art knowledge and art history.
Pascal Cotte, who digitized The Mona Lisa at the Louvre with his multispectral camera in October 2004, now presents the fruit of ten years' research.
Information
Format: Paperback / softback
Pages: 205 pages, 200 colour, 190 b&w
Publisher: Vinci Editions
Publication Date: 29/11/2015
Category: Renaissance art
ISBN: 9782954825847
Free Home Delivery
on all orders
Pick up orders
from local bookshops
Also by Pascal Cotte