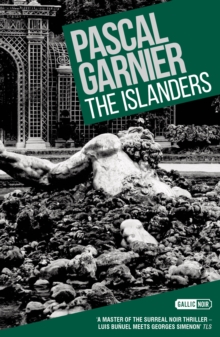 Description
It's a few days before Christmas in Versailles. Olivier has come to bury his mother, but the impending holidays and icy conditions have delayed the funeral. While trapped in limbo at his mother's flat, a chance encounter brings Olivier back in touch with childhood friend Jeanne and her blind brother, Rodolphe. Rodolphe suggests they have dinner together, along with a homeless man he's taken in.
As the wine flows, dark secrets are spilled, and there's more than just hangovers to deal with the next morning...
Information
Format: Paperback
Publisher: Gallic Books
Publication Date: 10/11/2014
ISBN: 9781908313720
Free Home Delivery
on all orders
Pick up orders
from local bookshops
Reviews
Showing 1 - 1 of 1 reviews.
Review by BrandieC
27/01/2016
I didn't think it was possible to be disappointed by one of Pascal Garnier's little noir gems, but The Islanders did not live up to the high expectations generated by Moon in a Dead Eye and The A26. This is not to say that The Islanders is a bad book. It is, in fact, a fun, dark Christmas read.Strangely, although The Islanders is my least favorite Garnier book thus far, it hews most closely to such classic noir hallmarks as a fascination with the grotesque, anxieties about masculinity, and doomed characters who, to quote Otto Penzler, "are caught in the inescapable prisons of their own construction." Every action taken by the blind, obese, and malignant Rodolphe; his alienated sister Jeanne; and the enervated Olivier leads to their inevitable downward spiral. What bothered me was the close resemblance of Olivier's alcoholic madness to that so chillingly documented in the underappreciated 2006 film Bug, starring Ashley Judd and Michael Shannon. Having seen that movie, I was not as disturbed by Garnier's verbal depiction of the ant infestation and the sealing of the apartment as he probably intended the reader to be.Nevertheless, those who have listened to one too many renditions of "Jingle Bells" will find The Islanders a welcome respite; just be sure to bring the bourbon but leave the eggnog behind.I received a free copy of The Islanders through NetGalley in exchange for an honest review.