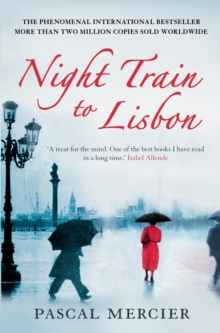 Night Train to Lisbon
Paperback
Description
Night Train to Lisbon follows Raimund Gregorius, a 57-year-old Classics scholar, on a journey that takes him across Europe.
Abandoning his job and his life and travelling with a dusty old book as his talisman, he heads for Lisbon in search of clues to the life of the book's Portuguese author, Amadeu de Prado.
As he gets swept up in his quest, he finds that the journey is also one of self-discovery, as he reencounters all the decisions he has made - and not made - in his life, and faces the roads not travelled.
Information
Format: Paperback
Pages: 448 pages
Publisher: Atlantic Books
Publication Date: 01/02/2009
ISBN: 9781843547136
Other Formats
EPUB from £4.79
Paperback from £7.25
Free Home Delivery
on all orders
Pick up orders
from local bookshops
Reviews
Showing 1 - 3 of 3 reviews.
Review by technodiabla
16/06/2015
This is a very good book-- especially if you like deep philosophical discussions about the soul and the nature of humanity. I believe Mercier is a philosophy professor after all. I found the story compelling, though not in the least bit believable. The current-time plot with Gregorius seemed very contrived to fit in with the past life and writings of Amadeu, and lots of details, that if focused on would seem ridiculous, were just glossed over. That really didn't detract from the book too much though. The thing I found just a little off-putting was Amadeu himself. I didn't like to see a selfish egomaniac as the hero. I didn't find him appealing and I think to really love the book you'd have to be able to look up to those types and forgive them their less than admirable qualities.An interesting premise, a plot that moves along, and an interesting cast of characters make this a worthwhile read. 3.75 stars
Review by wester
16/06/2015
I don't know what to think of this book. It is clearly a book for intellectuals: if you want action, or romance, look somewhere else. If you like long philosophical musings, you might like it. Or you might not, as I did.I thought the structure was weird, and I don't see any reason for it being like that. It is as if the writer had a lot of ideas that he wanted to communicate, which he admittedly did quite well, and he did have some idea that people want a story with their ideas, but he did not know how to actually make a story apart from making a lot of different persons and letting them interact. I especially didn't like the story threads still hanging at the end, going quite a bit farther than just an "open ending".Yet, this might be one of those books that grows on you after reading. I'll see.
Review by AnneBrooke
27/08/2015
A turgid book, which has a few moments of interest at the beginning, when teacher Gregorius decides to change his life so radically that he abandons his classroom in mid-lesson. It's certainly an exciting start (in a literary genre understanding of the concept of 'excitement', that is) though I thought the scene of a strange woman writing a phone number on Gregorius' head was beyond curious. At that stage, however, I was prepared to forgive this small oddity in the hope that the book's interest would grow and deepen.It didn't. There's a fair amount of travel in various directions, as the MC chases after the elusive (and now dead) author Prado. He meets a lot of people who make a large number of not-very-interesting and very long-winded declarations. Goodness, they do go on. The characterisation and plot gets entirely lost under a veritable barrage of words, and I abandoned all interest in the novel at a fairly early stage. Sometimes the prose is laughably bad, and there's far too much telling and not nearly enough showing us what's going on. Not a good combination.I think it might have had a slight chance if the mysterious Prado had been a writer worth pursuing, but honestly he wasn't. I grew very tired of his interminable book and his dull ramblings but the good news is they're easy to skip as they're in italics. Suffice it to say there's a love triangle of some sort or other, but I couldn't be bothered to understand much of the details. I also have no idea why all the women appear to be in love with Prado, as he strikes me as nothing more or less than a smug and pretentious egotist too wrapped up in his own perceived perfection to have any real time for anyone else.Perhaps though, at some level, that's the point of all this? That we all tend to pursue goals and dreams which aren't what they appear to be, and really Gregorius would have been far better off giving the night train to Lisbon a miss, and finishing off the lesson he left so abruptly instead. The Isabel Allende quote on the front tells us she thinks it's one of the best book she's ever read. My suggestion would be that she widens her reading material, hey ho. Oh well.Verdict: Turgid. 2 stars.