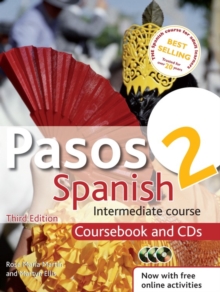 Pasos 2 3ed Spanish Intermediate Course : Coursebook and CDs
Mixed media product
Description
What is Pasos 2?Consolidate and develop your language skillsIn Pasos 2, the second stage of the course, the language skills learnt in Pasos 1 are consolidated and developed, giving learners the ability to communicate confidently at a higher level.
They will also gain an insight into the history, customs and everyday life of modern Spain and Latin America.What will I learn?Active and realistic use of the languagePasos 2 encourages active and realistic use of the language over a wide range of topics and situations throughout its fourteen topic-based lessons.
There is a wealth of up-to-date authentic reading and listening materials as well as speaking and writing tasks based on everyday situations in a Spanish and Latin American context.
The tasks draw on learners' opinions, experience and knowledge of the world and are set against a background of more controlled presentation and practice of essential grammatical items.How will I learn?Integrated task-based approachEach lesson is subdivided into stand-alone sections which provide an integrated task-based approach.
As with Pasos 1, there are regular opportunities for revision, and vocabulary and grammar summaries are provided both at the end of each lesson and in a separate section.
Preparate features prepare learners for new language and topics and lessons end with an Autoevaluacion self-assessment feature.
The book includes a two-way glossary. Group or independent studyPasos 2 constitutes a useful resource for the learner studying alone as well as the student in the classroom.
What is new in the third edition?Improvements and additionsThe new edition has improvements and additions based on ideas and feedback from tutors across the country. There is also now simple navigation between the book and CDs, with clearly marked references in the Coursebook. Interactive quizzes and exercisesBrush up and reinforce your learning at home, with fun, interactive online quizzes and exercises. Or use them in class with the group. Where do the Coursebook and CDs fit within the Pasos 2 Range?Pasos 2 Coursebook and CDs: - 1 copy of the third edition of the Coursebook (the primary text for the Pasos 2 course) - 3 audio CDs (3 hours of recordings)Pasos 2 Course Pack: - 1 copy of the third edition of the Coursebook (the primary text for the Pasos 2 course) - 3 audio CDs (3 hours of recordings) - 2 Support Books containing a key to the exercises and recording transcripts.Pasos 2 Activity Book: an intermediate level workbook which complements the exercises in the third edition of the Pasos 2 coursebook.
Divided into 14 units, 12 of which are subdivided into sections covering or expanding a different linguistic area while the remaining two contain general revision and test material.
The range of activities includes wordsearches, crosswords and cultural quizzes along with extra reading comprehension tasks.
Vocabulary and verb conjugation exercises are provided, and each lesson ends with a revision section which practises a cluster of language points.
A valuable resource for learners and teachers alike, offering extra practice in class as well as ideas for homework activities.
It can be used alongside the third edition coursebook to provide further tasks for faster learners or more intensive practice on a specific area.
It can also be used as self-access material by learners who wish to work through the materials independently.
Information
Format: Mixed media product
Pages: 272 pages, Fully illustrated in colour throughout
Publisher: Hodder & Stoughton General Division
Publication Date: 29/04/2011
ISBN: 9781444139273
Free Home Delivery
on all orders
Pick up orders
from local bookshops