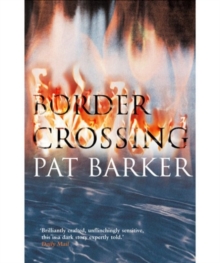 Border Crossing
Paperback
Description
Border Crossing is Pat Barker's unflinching novel of darkness, evil and society.When Tom Seymour, a child psychologist, plunges into a river to save a young man from drowning, he unwittingly reopens a chapter from his past he'd hoped to forget.
For Tom already knows Danny Miller. When Danny was ten Tom helped imprison him for the killing of an old woman.
Now out of prison with a new identity, Danny has some questions - questions he thinks only Tom can answer.
Reluctantly, Tom is drawn back into Danny's world - a place where the border between good and evil, innocence and guilt is blurred and confused.
But when Danny's demands on Tom become extreme, Tom wonders whether he has crossed a line of his own - and in crossing it, can he ever go back?'Brilliantly crafted.
Unflinching yet sensitive, this is a dark story expertly told' Daily Mail'A tremendous piece of writing, sad and terrifying.
It keeps you reading, exhausted and blurry-eyed, until 2am' Independent on Sunday'Resolutely unsensational but disquieting . . . Barker probes not only the mysteries of 'evil' but society's horrified and incoherent response to it' Guardian'Rich, challenging, surprising, breathtaking' The Times
Information
Format: Paperback
Pages: 288 pages
Publisher: Penguin Books Ltd
Publication Date: 04/04/2002
ISBN: 9780140270747
Free Home Delivery
on all orders
Pick up orders
from local bookshops
Reviews
Showing 1 - 5 of 8 reviews.
Previous | Next
Review by Clurb
16/06/2015
Disappointing and slightly contrived.
Review by smik
16/06/2015
As this dark, fast, and chilling novel begins, Tom Seymour, a clinical psychiatrist specializing in violent children, rescues a young man who has fallen into the river near Tom's home in northern England. The young man turns out to be Danny Miller, whom Tom met in a professional capacity thirteen years earlier, when Danny was only ten. In fact, Tom had testified at Danny's murder trial-and it was his expert opinion that effectively put Danny behind bars. Now Danny is back in Tom's life, but is this reunion really a coincidence? And was Tom correct in affirming, all those years ago, that Danny knew right from wrong, knew the implications of his actions, and knew he was committing murder? And what exactly does Danny want from Tom, now that Tom has agreed to help him sort out his troubled past? Border Crossing is a disturbing yet subtle psychological thriller that explores the nature of evil, the possibility of redemption, and the often overlapping problems of truth and identity.
Review by dylanwolf
16/06/2015
There's a certain sensationalism to Border Crossing that takes the novel too far from my point of view. Pat Barker, I think, is stronger with more down to earth narratives. This book doesn't directly allude to the Bulger case but the theme of it is very similar. Tom Seymour, a child psychologist, saves a young man by diving into a river to rescue him. The would be suicide turns out to be the same person about whom Seymour gave professional evidence at his trial for the murder of old woman when he was ten years old. He was given a new identity and had been released from prison ten months earlier.We later discover that Seymour himself was involved in a case of childhood bullying at a pond and only the intervention of a concerned adult had prevented a tragedy.Although these themes of childhood innocence and guilt and the law are interestingly explored there is a slight whiff of melodrama that stops this from being a great book.A curious choice of title too. I didn't imagine that's what this book would be about.
Review by abigail.ann
16/06/2015
Slow to begin with, but increasingly emotional exploration of the boundaries between good and evil. Raises as many questions as answers, if not more. An interesting read for anyone interesting in delving into life's emotional rollercoasters.
Review by eleanor_eader
16/06/2015
When child psychologist Tom Seymour pulls a young man, seemingly intent on suicide, from the river during an early-morning walk, he finds himself drawn back to the case of the child-murder of a 78 year old woman, a child whom Seymour helped convict. When Danny Miller asks for Seymour's help in confronting the truth of his past, Seymour's ambivalent but fascinated agreement marks the point where borders begin to be crossed and labels such as 'innocent', 'manipulative' or 'evil' are blurred.<i>Border Crossing</i> doesn't have the resonance of Barker's astonishing <i>Regeneration</i> trilogy, but that's not to suggest it doesn't have its own gritty, disturbing impact. Barker is not only unafraid of exploring the darker recesses of the human psyche, but is especially adept at using it as a source of tension in her books. There's also a genius of character-building at work here – it's one thing to create someone who can deliver dialogue or move objects around a room, but Danny Miller's memory, his motivations and the core of his character <i>are</i> the book, they are what the reader becomes invested in.Pat Barker writes exceedingly well, and psychology is a subject on which she writes with great authority and a sympathetic touch that colours the reader's impressions of her characters. I wouldn't recommend this <i>before</i> Regeneration, because that truly was a masterpiece, but <i>Border Crossing</i> is very worthy of the author's talents, and the reader's time.