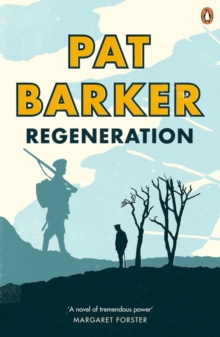 Description
Regeneration is Pat Barker's classic, Man Booker Prize-nominated novel of World War I and trauma.Craiglockhart War Hospital, Scotland, 1917, and army psychiatrist William Rivers is treating shell-shocked soldiers.
Under his care are the poets Siegfried Sassoon and Wilfred Owen, as well as mute Billy Prior, who is only able to communicate by means of pencil and paper.
Rivers's job is to make the men in his charge healthy enough to fight.
Yet the closer he gets to mending his patients' minds the harder becomes every decision to send them back to the horrors of the front.
Pat Barker's Regeneration is the classic exploration of how the traumas of war brutalised a generation of young men.This is the first novel in Pat Barker's Man Booker Prize-winning Regeneration Trilogy.'A brilliant novel.
Intense and subtle' Peter Kemp, Sunday Times'A vivid evocation of the agony of the First World War and a multi-layered exploration of all wars.
A fine anthem for doomed youth' Time Out'A novel of tremendous power' Margaret Forster 'Unforgettable' Sunday Telegraph'One of the strongest and most interesting novelists of her generation' Guardian Other titles in the trilogy:The Eye in the DoorThe Ghost Road
Information
Format: Paperback
Pages: 256 pages
Publisher: Penguin Books Ltd
Publication Date: 01/05/2008
ISBN: 9780141030937
Other Formats
Paperback from £7.65
EPUB from £3.99
eAudiobook MP3 from £5.59
Free Home Delivery
on all orders
Pick up orders
from local bookshops
Reviews
Showing 1 - 5 of 8 reviews.
Previous | Next
Review by mirrordrum
16/06/2015
an amazing book. i've read it, that is to say, listened to it as i can no longer read, perhaps 10 times and just finished it again. the narration by peter firth is outstanding and nuanced. barker is a master at dialogue and for me that elevates this book to greatness. the characters are finely drawn through description but, for me, even more so by their interchanges.
Review by PIER50
16/06/2015
Beautifully written and interesting book. However, I think it needs to be read as part of the trilogy (I haven't yet) to fully appreciate it. I found myself getting to the end and thinking 'OK, now what?' There are some disturbing idetails about the treatment used on some of the soldiers to "cure" them of various problems they aquired in the trenches, like losing their voice etc. The section on repeated electric shocks to do this certainly makes you think!
Review by perlle
16/06/2015
Somewhat tedious, but with some good insights.
Review by startingover
16/06/2015
The first book in the trilogy. In 1917, Siegfriend Sassoon, having issued a public declaration against the continuance of the war, is persuaded to attend a Medical Board, and finds himself in a military hospital, Craiglockhart, where his doctor, Rivers, learns much from Sassoon's case, about the nature of treatment, and war, and the ethics of sending back Sassoon to France, where he might be killed. [Dec 2004]
Review by DeltaQueen50
16/06/2015
Regeneration by Pat Barker is a wonderful example of both a work of historical fiction and an anti-war piece. It is the first book in the Regeneration trilogy about the First World War. I found this understated simple story very moving as it explored the minds of men that were caught up in the maelstrom that was to practically wipe out a generation. My grandfather ran away from home to enlist and faced these very horrors at the very young age of seventeen, and lived with these memories the rest of his life. All wars are terrible but there seems to be such a loss of innocence that is connected to this war. It became a new style of warfare run by a series of incompetent generals and politicians and the lives that were sacrificed was overwhelming.The author centers her story at Craiglockhart War Hospital in Edinburgh where British army officers are sent to recover from "shell shock". Her characters are a mixture of real people such as poet Siegfried Sassoon and psychologist W.H.R. Rivers along with fictional characters. Extensive research paired with beautiful writing has produced a story that highlights the effect WW I was having and would have in the future. The day to day procedures at this hospital as Dr. Rivers works with his patients highlights the horrors that these men faced and the consequences that they now had to deal with from mutism, hallucinations, stuttering, etc.Not a long book at only 250 pages, this is a very powerful story that invokes intense feelings in the reader. Regeneration was a moving, intelligent, thought-provoking and very rewarding book that I highly recommend.
Also in the Regeneration series | View all